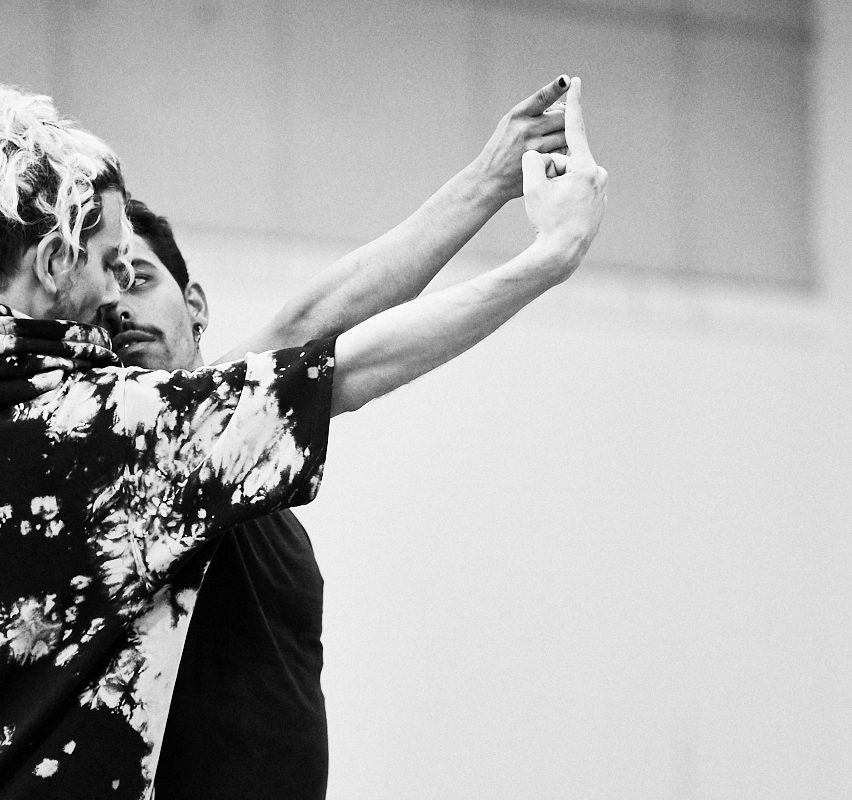 October 3rd at 12h, 60′
Casa de la Música, 5€
Finger to finger. Finger to hand. Hand to bum. Bum to elbow. Ear to eyelash to nail to nose! Ear to eyelash to nail to nose!
Two dancers dance while touching different parts of their bodies. Together. They are guided by a voice that sometimes gives them instructions, and sometimes narrates what they are doing – turning them into impossible creatures, parts of a story.
Designed for audiences between six and eleven years old, dit dit is a piece and workshop that is the result of lengthy research by the company CondeGalí B.L. Based on the initial question of how the AIDS pandemic affected the dance and LGBTIQ + communities in Spain and Latin America, Aimar Pérez Galí —always in collaboration with the artist, teacher and theorist Jaime Conde-Salazar—has worked on a number of processes and projects since 2015. In all of these projects, (con)tact is re-evaluated as a mode of thought and political action, and as a mechanism for pleasure and the display of affection.
As a result of Covid-19, Aimar's project is more important than ever. Especially if we think about the aforementioned age group, it is vitally important to remove their fear of touch as soon as possible. And reinstate the value of the bodily experience as a motor for its development.
Before the show, the audience and dancers practice the different guidelines in place so they can explore movement. They spend some time adding, removing and imagining by listening to their own bodies for the information they need. Let's not forget, CondeGalí remind us that everything we have learned comes in, first of all, through our skin.
One of Aimar's constant references is the lecture given by gay activist Jon Greenberg in 1992 in Arteleku, San Sebastian. Greenberg said at the time that it was not the virus that killed, but the conflict: the barriers it erected, the distancing.
Aside from proposing touch as an antidote, dit dit upholds the memory of the effect that the previous pandemic had on the LGBTIQ+ community. There is a reason the dancers are both men.
DIRECTION: Jaime Conde-Salazar & Aimar Pérez Galí
PERFORMERS: Daniel Méndez & Xavier Manubens
CONCEPT: Jaime Conde-Salazar & Aimar Pérez Galí
SOUND: Óscar Villegas
PLAYWRIGHT AND VOICE: Aimar Pérez Galí
PRODUCTION: Isabel Bassas
DITDIT is a CONDEGALÍ B. L. production with the support of A Tempo / Fundació Ciutat Invisible and L'animal a l'esquena
TAMBÉ ET RECOMANEM
Organitza:

Amb el suport de:

TO THE BEGINNING