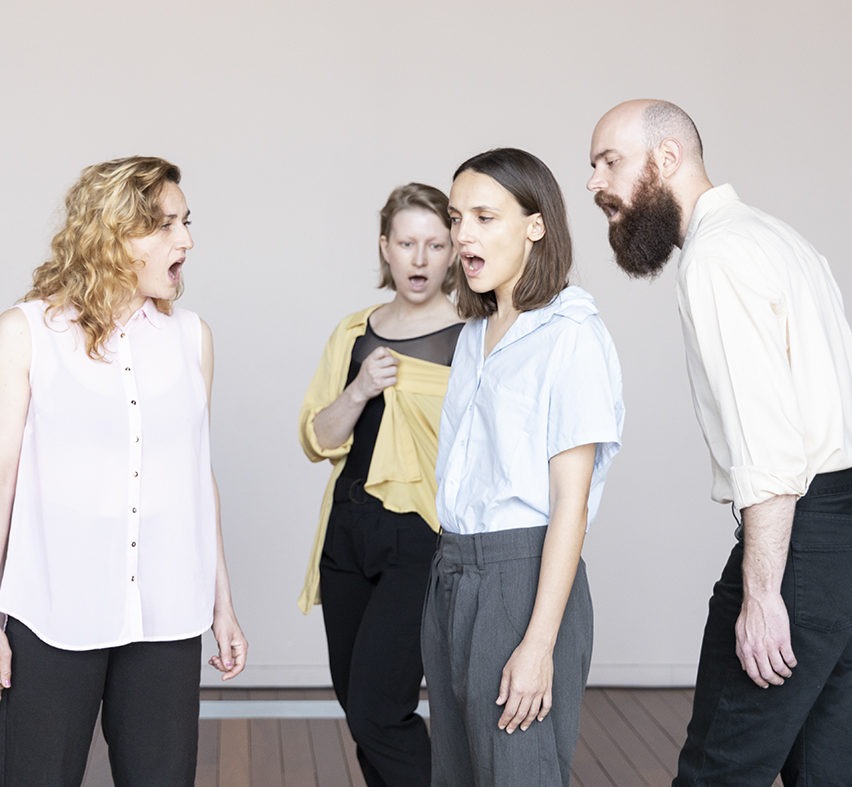 WE ARE (T)HERE
Aurora Bauzà & Pere Jou
Aurora Bauzà and Pere Jou have a background in singing, but they approach musical composition by using the body to invade space. In doing so, their work questions old relationships and hierarchies, and movement and sound become parts of a single language. The stage, on the other hand, is the place where the score is written.
Their previous piece, I am (t)here, already challenged the idea that when the body sings, it works just as a 'vehicle' or a 'sound box'. From 'I' to 'us', We are (t)here takes new steps in this direction. On stage: different bodies, general guidelines to create sound and actions, and repetition as a basic compositional strategy. Someone introduces a new aspect, and the difference is given time to be seen, understood and integrated – or not. Everything that happens is the result of each moment, of negotiation and the search for consensus between the performers.
Although the original goal of making music remains, the piece also shines, in its own unique way, as a choreography, and choreographically. Because instead of immobilising the body so it supports the full network of nuances of muscles, tendons and diaphragms, here the tension serves so that the music is not only heard, but also observed. When the sound emerges with and from movement, bodies not only sing together, but they are together, too.
Thanks to support from the TNT, the project has been accompanied by choreographer Alessandro Sciarroni, famous for using dance to manage similar physical resonances. Emergencies in choreographic explorations, based on the magnetism created by the repetition of a single action. Or, as in this case, of a single note.
Concept and Direction: Aurora Bauzà and Pere Jou
Performers: Lara Brown, Elisa Keisanen, Pere Jou and Aurora Bauzà
Musical Composition: Aurora Bauzà y Pere Jou
Artistic Accompaniment: Alessandro Sciarroni
Costume Design: Mariona Signes
Supported by: Graner Centre de Creació, L'Estruch de Sabadell, Can Gassol de Mataró, Festival TNT, Institut d'Estudis Baleàrics, la Generalitat de Catalunya and Mentorship Program from Institut Ramon Llull
TAMBÉ ET RECOMANEM
Organitza:

Amb el suport de:

TO THE BEGINNING