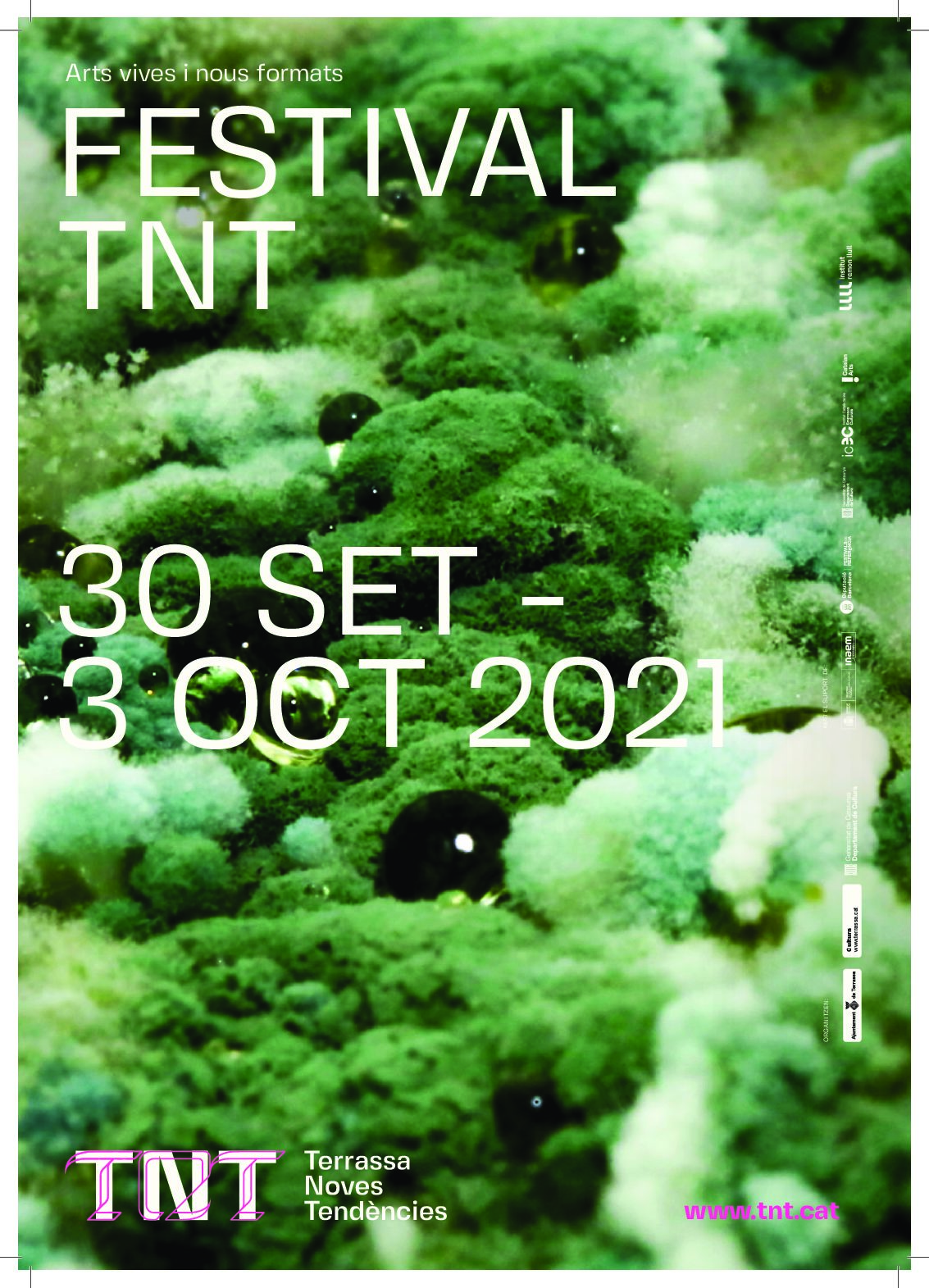 THE FESTIVAL OF ARTS AND NEW FORMATS
Florir (to bloom) in Catalan is a polysemic word. The dictionary gives several definitions, all of them beautiful. The first one: to produce or yield flowers. In a broader sense: to mature into achievement of one's potential. However, in Catalan, florir also means 'to rot', that is, to undergo decomposition from the action of bacteria or fungi. In this year's programme, both concepts apply. Because we have the urge to address a lot of topics. Because we have gathered too many worries, too many fears, lies, and desires. Because —as the German philosopher Hartmut Rosa says—, what happened before the pandemic was anything but normal. That's why this year our festival blooms in the way fungi do, that is, decomposing organic matter, transforming the rotten into fertilizer, and converting whatever was useless into new life (hence the image of this year's poster).
This year's programme includes twenty-two performances, half of which premiere during the festival. It's a risky edition, 'risk' applying both to the festival's programme choice but also to the moment we are living in, since many of the works we selected were conceived during this fickle pandemic time (and that's probably why it is addressed also in their plots). But how not to address the pandemic? Indeed, perhaps the most revolutionary approach is to reflect on it critically through artistic practices.
It is in this context that TNT presents this year the works of our resident companies Las Huecas and Urati, two groups of incredibly young, emerging and innovative creators, who focus on things such as death management or the confrontation of 'migrant' vs. 'virtual' bodies. As a matter of fact, these two performances draw a path along other works (such as Vértebro's or Bárbara Bañuelos'), which also revolve around contemporary concepts such as madness, self-exploitation and sustainability. It's issues which demand reflection because they set us amidst a public debate on how to conduct life from now on and how to build an ever-so questioned future.
With the aim to further explore Terrassa's city depths, this year we have decided to engage even more with the local communities. Indeed, in some of the works presented, you will get to know some of Terrassa's local voices, their bodies, and their knowledge. This is especially portrayed in Paramecis i meteorits by Xesca Salvà and Marc Villanueva, a work that looks at the life of bacteria and fungi from the real-life experience of a group of local biologists, and in Los figurantes by Ça marche, for which a handful of city children volunteered to play their games on stage. So, as you can see, we opted to reach our arms out to the suburbs, and we did this with two unique performances: closing masterpiece La llista by Quim Bigas (held on Sunday morning before Terrassa's Town Hall), and Vivir en Videoclip by Anto Rodríguez, a popular concert-karaoke invitation to sing and dance wholeheartedly.
New format experimentation comes this year from María Jerez and Edurne Rubio, who play with natural phenomena; from El Conde de Torrefiel, whose interesting performance is targeted at only one single viewer; and from the stage collective Los detectives, who opt to merge cinema and body pleasure in an experimental way. For its part, the TNT KIDS festival also hosts three new plays under an 'active spectatorship' and 'non-infantilization' philosophy, as seen in Dit-dit by Condegalí, a workshop vindicating touch as a knowledge tool deemed to turn into a fundamental life lesson.
The festival ends with much more than a concert —a life musical. Glòria Ribera, Los Voluble and Mercedes Peón will then present their unparalleled, cross-disciplinary creations full of deep political claims.
TNT is a living festival exuding modernity, necessity and urgency. It attends to discomfort, to whatever does not quite work, to the need for change in our ways of living. Obvious thoughts such as 'the world was never ours' or 'we are finite' are a first, tiny, fundamental step towards change That's why fungi are so importantly portrayed in our programme. Let's be humble and admit that they could actually survive us as a species, that they might actually turn our waste and everything we leave behind, into a whole new world. Let's stop placing humankind in the centre, let's please step aside and start changing our perspective. We will then see how something as apparently hideous as fungi can actually turn into something beautiful, a wonderful landscape, as if from another planet.
Marion Betriu
Artistic director TNT
FESTIVAL TNT
COVID-19 MEASURES
The TNT festival will always follow the current safety and prevention protocols. On the one hand, all spaces will be disinfected, there will be hydroalcoholic ice dispensers at the entrance, the capacity and arrangement of the seats will meet the required safety distances, and the access and evacuation of the spaces will be done in a staggered and controlled manner to ensure the distance safety and avoid overcrowding. On the other hand, we would like to appeal to everyone's individual responsibility: keep a safe distance, good hand hygiene, and remember that mask wearing is mandatory. And most importantly, if you think you may have symptoms of COVID19 or have been in contact with someone diagnosed, we ask you to stay home.
OTHER CONTENTS
Organitza:

Amb el suport de:

TO THE BEGINNING