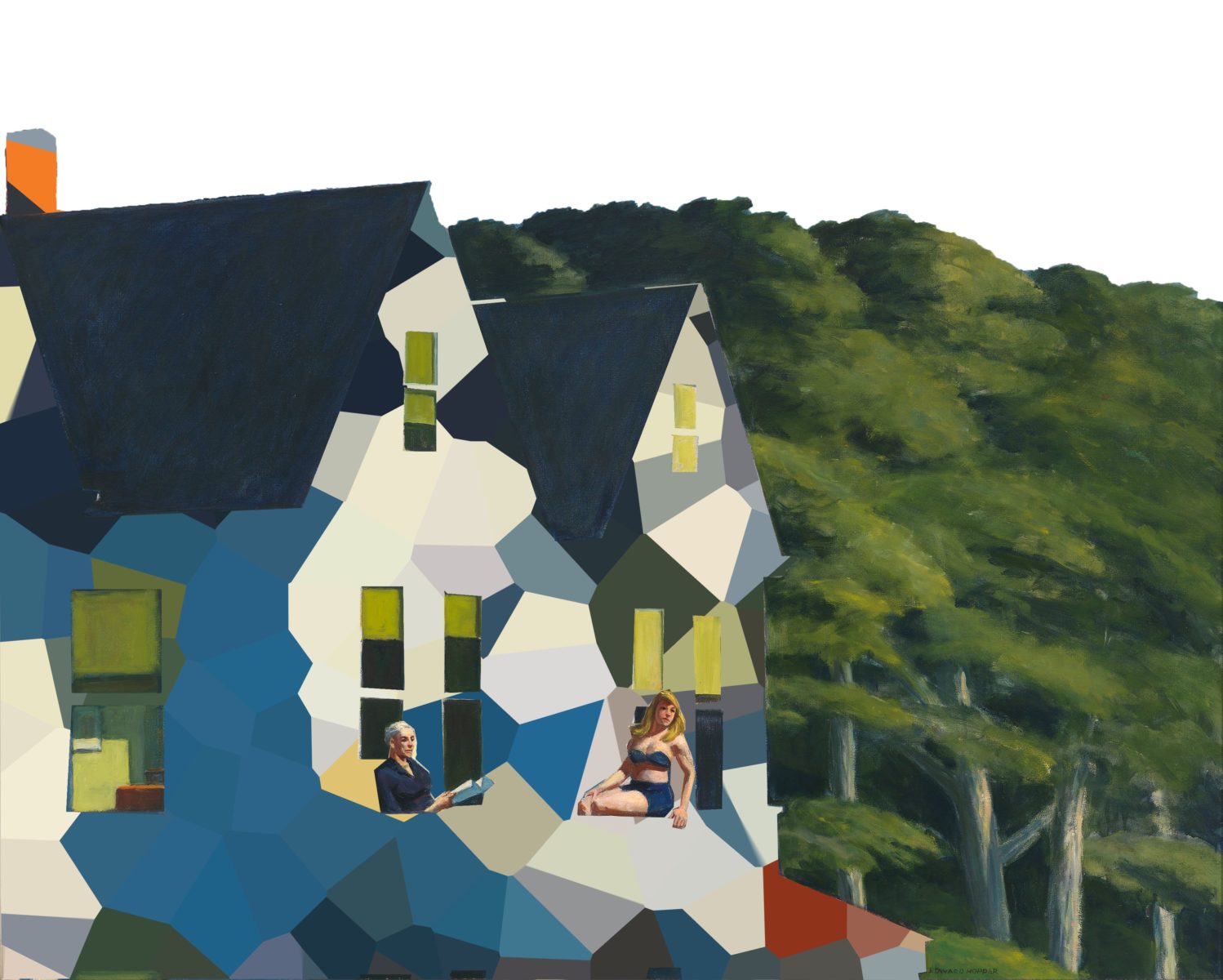 Donde empieza el bosque acaba el pueblo
MONTE ISLA
There is a forest of fir trees on the top of the mountain. Across the nearby road, there is a square-shaped, little white house. Behind its gate there is a garden with a swimming pool and a deckchair, the lawn is neatly mowed, full of pots and plants. From the house window, a faint light glows in the darkness. Behind the window is a living room with a television —a film is on. In the film, strange creatures stalk passers-by in the dark undergrowth of the forest.
Monte Isla's project comes from the desire to give voice to Edward Hopper's tensions —vividly expressed in some of his canvases— on stage. In the works Hopper painted in his Cape Cod summer residence, the limits between civilization and nature are expressed through a silent violence and the use of space, colour and form. He depicts "conflict" as a complex philosophical dilemma and paints places without words, unintelligible dense universes. This concept appealed Monte Isla by its simplicity, condensation and strength. In Donde empieza el bosque acaba el pueblo, Monte Isla seeks to inhabit, decipher, disembowel and recompose Hopper's canvases through a visual performance with no actors, made only from a "living scenography" and the spectator's gaze.
The play takes the audio-visual language codes used in thrillers and turns them into theatrical mechanisms. Using light, sound, varied objects and materials, a transforming artwork slowly takes place. In the play, the stage itself narrates the work's storyline.
About the company
in 2018, Adrià Girona, Andrea Pellejero and Rut Girona graduated together in Visual Theatre at Barcelona's Institut del Teatre. In 2020 they got together to found Monte Isla, for which they developed Allí donde no estamos. They premiered it at Espai nyamnyam in August 2021 during the Si no vols pols no vinguis a l'era festival. For this play, they later won the 2021 DespertaLab prize at Nau Ivanow. Monte Isla's three main members work with a handful of collaborators, among which are XIm i. Rabassa (Sculptor), Uriel Ireland (Sound technician) and Miguel Pellejero (Machinist).
The company's long-term goal is to make a name for themselves in Catalonia and to organize interdisciplinary meetups to boost artistic research and contemporary theatre creation.
Hosted by:

Collaborators:

Media partners:

TO THE BEGINNING