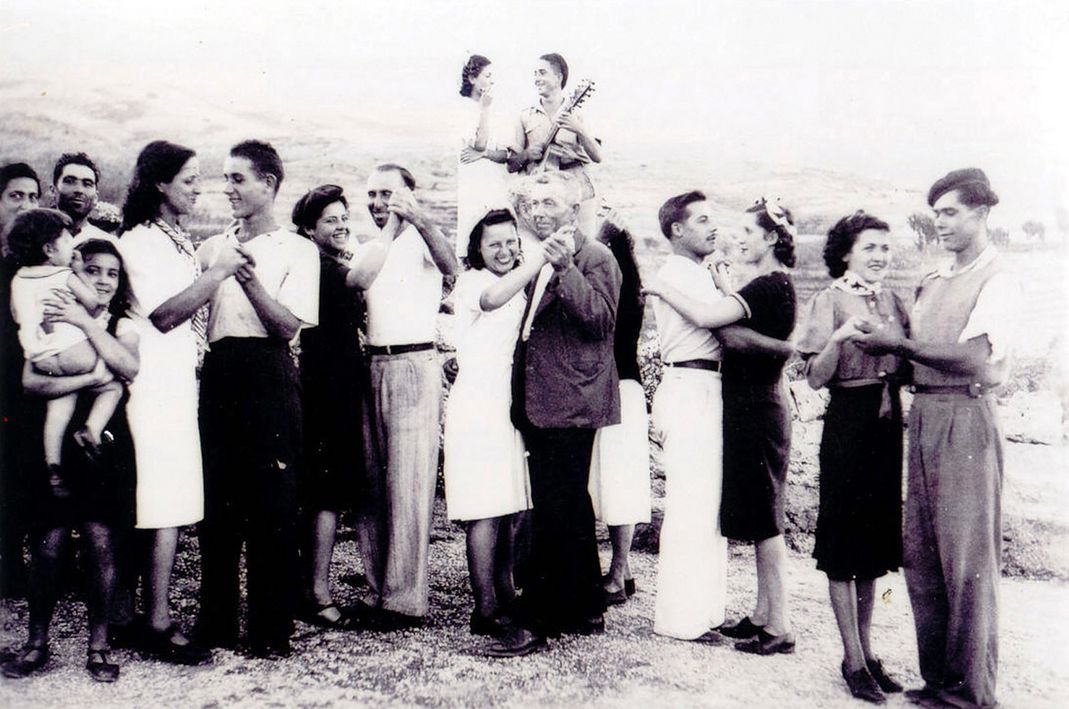 El Movimiento
JORGE DUTOR and GUILLEM MONT DE PALOL
El Movimiento (autóctono) is a collective and citizen artwork on the creation of new folklore and modern social dances people can identify with. It responds to the question "what should the typical dance of Terrassa be like?".
In the words of creators Jorge Dutor and Guillem Mont de Palol: "We would like to conceptualize specific social dances for different communities and make people remember them. It should be different dances for specific communities: a dance for the residents of a particular suburb, one for the neighbours of a given building, one for the town hall's employees, the members of a gym, the students at a specific school, the buyers of the city market, etc. Once we come up with each specific dance, we would like people to learn it and then pass it on to the next generations, up to the point where it can be registered as a city heritage. Our plan is to create inclusive dances. Also in this project, we would like to fund a space for research, thought and creation, a place where people can interact with other citizens and come up with community-specific folkloric symbols. We want people to put their bodies out in the social sphere.
El Movimiento is a fundamentally participatory project for the development of collective identity dances. It comes from a transformative desire both for the citizens and the city. We believe that folklore has a function, a reason to be. Why else are there dances everywhere? Dances of celebration, of death, weather dances, initiation dances, agriculture and courtship dances… even conflict resolution dances! In this play, we don't question these dances, but wish to generate new ones for new traditions. It's about showing respect to modern creation, folklore and tradition —by starting a modern tradition.
This project is the outcome of a word identity crisis. We believe that creating traditions can be an empowering element of social and neighbourhood relationships construction".
About the artists
In 2008, Guillem Mont de Palol and Jorge Dutor started collaborating in Amsterdam. From their first encounter onwards, they produced the works UUUHHH, YO FUI UN HOMBRE LOBO ADOLESCENTE INVENTANDO HORRORES (2009), Y POR QUÉ JOHN CAGE? (2011), #LOSMICRÓFONOS (2013), the film THIS MOVIE (2013), GRAND APPLAUSE (2016), and LO MÍNIMO and LO PEQUEÑO with Cris Blanco.
Their works have been featured in national and international events such as La Casa Encendida, Antic Teatre, Mercat de les Flors, Festival Escena Abierta Burgos, AltVigo, Short Theatre Festival Roma, Festival NEO, Festival In-Presentable, Living Room Festival, A ras de suelo Gran Canaria, La Alhóndiga Bilbao, CA2M, Panorama Festival-Rio de Janeiro, Tabakalera-Donostia, Flare Festival Manchester, Festival CuatroxCuatro, Mexico, Museo Universitario del Chopo CDMX, NAVE Santiago de Chile, Julidans Amsterdam and Teatre Principal de Palma, among others.
Jorge Dutor and Guillem Mont de Palol frequently teach pedagogical workshops. They set up art labs full of work tools and work with art centres such as DECORUM (MACBA) or Artefactes Escènics of Teatre Artesá del Prat de Llobregat.
Cast, Creatives and Crew
Concept/Direction: Jorge Dutor + Guillem Mont de Palol
Sound: Carlos Parra
Production: EL ÁLAMO creativa cultural
Documentalist: to be defined
Video: to be defined
Photography: to be defined
Hosted by:

Collaborators:

Media partners:

TO THE BEGINNING