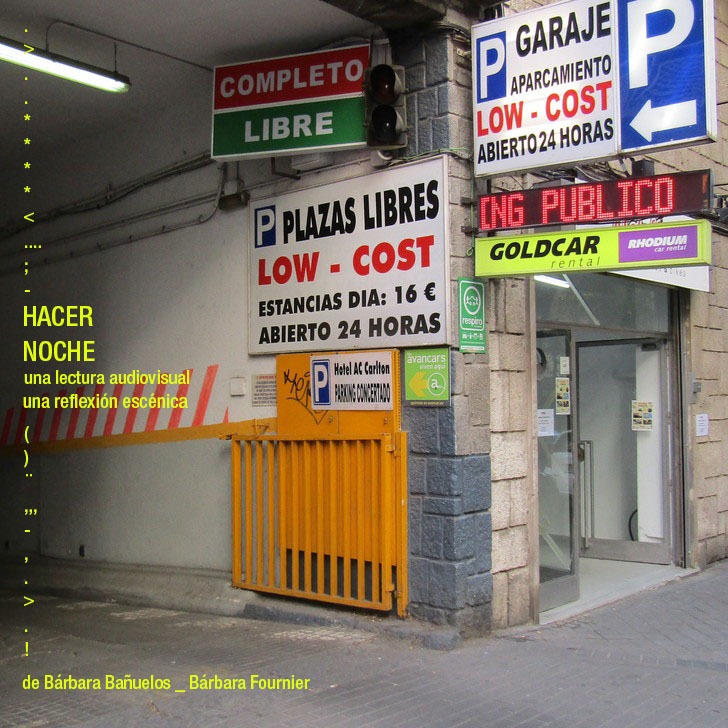 HACER NOCHE
Bárbara Bañuelos
Hacer noche (Overnight) is a journey, an audiovisual reading, a scenic reflection through Céline's Journey to the End of the Night. A reflection on bodies and their contexts, bodies that disappear, hide, cease to be visible. Bodies, whose voices, words, dialogues, reflections, cultures, pasts and presents bear the threat to disappear. Hacer noche is one and many questions about our place in the world.
Carles Albert Gasulla has been diagnosed with schizophrenia. He is not eligible for a non-contributory pension because he has never been hospitalized. He holds a degree in German philology and speaks, writes, and reads in five languages. Carles, however, works in a poorly-paid night job as a car park security watchman. It is a dark and lonely occupation where he often finds himself talking to himself and his books. An intellectual forced to live in the dark because of a mental condition, one who is able to analyze his own madness with faultless precision and lucidity. Carles and Bárbara, the play's main characters, spend the night discussing and reflecting on Céline's words about true contemporary madness until a new day begins.
Hacer noche is a journey into oneself. A two-person meeting designed to unravel and question the "settler" in us. Analyzing the topics in Céline's work (Carlos' favourite book), the play manages to draw a conceptual map for the body and creates an audiovisual stage context that can be shared with the audience.
About the artist
Formed and transformed between Burgos, Madrid, London and New York, Bárbara Buñuelos combines her stage work with alternative musical projects. Her research and creation processes are autobiographical, her self becoming a "we" instead of an "I". She takes concepts such as memory, imagination, time, reality, and fiction and intertwines them from a different angle, somewhere between the personal and the social sphere.
90 dB was Buñuelos' first stage piece, for which she won the 2019 Injuve Award. In recent years, Bárbara collected hundreds of papers and thrown objects to use them in her play Inventari, memòries d'una aspiradora (Inventory, memories of a hoover), a work she enacted in several stage and exhibition galleries such as El Musac, Artium, CaixaFòrum, Teatro Pradillo, Festival Escena Abierta. El meu pare no era un famós escriptor rus, un documental escènic (My father was not a famous Russian writer, a stage documentary), is her most recent work. It speaks out against physical and mental suffering and it has been showcased at the BAD Festival, the Sâlmon Festival, Mercat dels Flors, the IDEM Festival, La Casa Encendida, Artium, etc. Buñuelos is a member of the experimental band "Ju." and the leading voice, creative mind and digging hand of "Elephant Pit", her cover band.
Comparative readings, Dialogue, Reflection, Stage body: Carles Albert Gasulla
Direction and playwright: Bárbara Bañuelos
Sound and stage technical assistance: Javier Espada
Art direction: Mammal
Audiovisuals: Olga Muir
Light design: Martina Jambor
Director of photography: Marwan Zouien
Stage: Antoine Hertenberger
Organitza:

Amb el suport de:

TO THE BEGINNING