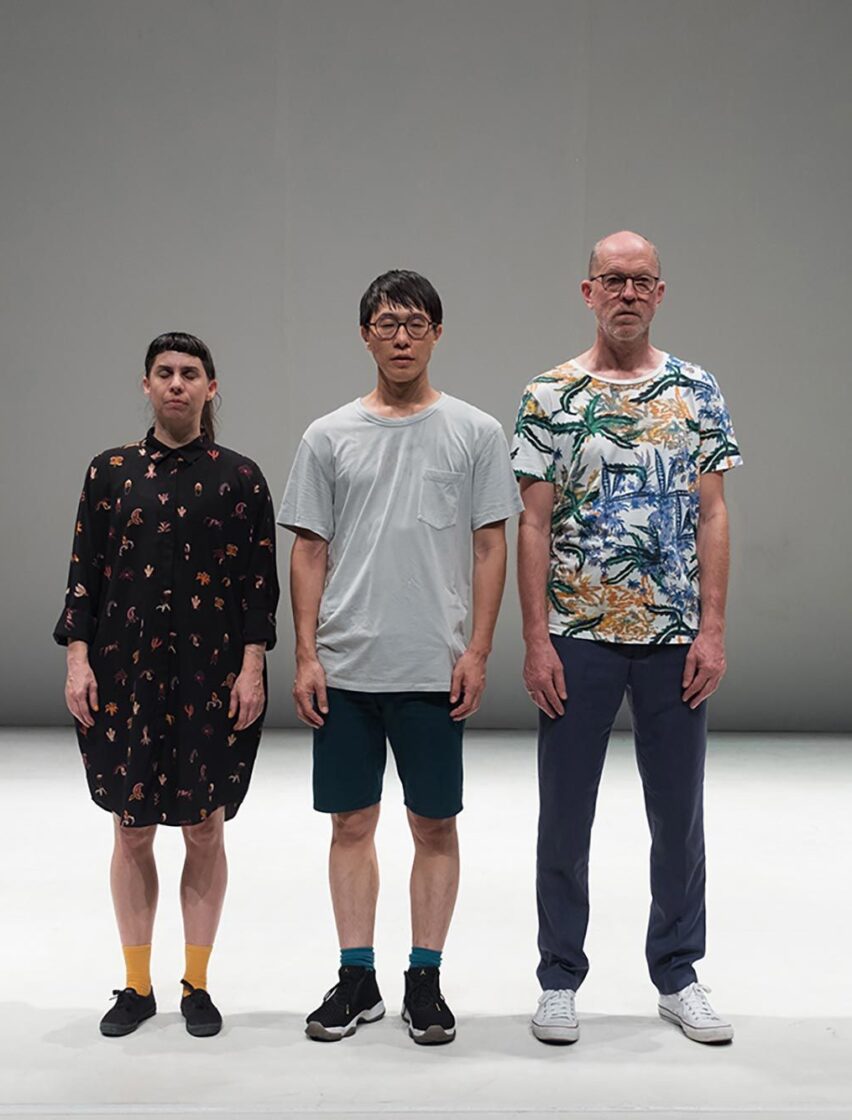 ALL TOGETHER
Michikazu Matsune
> Thursday, September 28th at 20:30
LOCATION: Teatre Alegria
DURATION: 65'
PRICE: 11 €
LANGUAGE: english (subtitled in catalan)

Gather together everyone who has been important in our lives in the same place. That's what Austrian-Japanese artist Michikazu Matsune, accompanied by Frans Poelstra and Elizabeth Ward, sets out to do in All Together. We wouldn't be who we are without the influence that so many people have had on us: old teachers that we lost contact with, loved ones who've left us, ex-lovers, childhood buddies, work-mates, famous celebrities… A never-ending universe of names and of stories that Michikazu, Elizabeth and Frans –three people from very different geographical, cultural and generational backgrounds– recount in a hilarious, systematic style as they take us on a one-hour journey through time and continents, without leaving our seats.
Distance and separation in a globalised world are themes that the pandemic very much highlighted, but also the question of who we are in relation to others. And that concern resonates with other productions that we can see in this year's festival, like those by Sònia Gómez and Las Huecas. In Michikazu's case, the idea was hatched long before anyone had even heard of pangolins or the coronavirus.
This extremely personal piece was totally created from the three performers' own experiences, which they describe in the form of anecdotes, with ample doses of humour and ridiculousness. And their tales sometimes unexpectedly enter their bodies and possess them, bringing to the Principal Theatre, Terrassa a friend who dances techno in an abandoned factory in Berlin, a dim-witted roomie from New York and a granny who enjoys Japanese am-dram. Michikazu's background is in movement and dance, and he uses that to devise a piece in which the body plays with the boundaries of memory and absence.
Poetry, comedy, absurdity and critique all come together in a production by an artist who is as ingenious as he is unclassifiable, and which is showing at festivals all over the world –he just premiered his latest work at the Avignon Festival–, although this is the first time he's appeared in our country. A unique opportunity to discover his universe.
Artistic concept and direction: Michikazu Matsune
Performance: Michikazu Matsune, Frans Poelstra, Elizabeth Ward
Rehearsal Assistance: Dorothea Zeyringer
Tour manager: Franziska Zaida Schrammel
A production of Studio Matsune 2018
Supported by the Cultural Department of the City of Vienna / MA7
Tour support: DANCE ON TOUR Austria – a project by Tanzquartier Wien in cooperation with the Australian Federal Ministry for European and International Affairs
–
https://www.michikazumatsune.info

TAMBÉ ET RECOMANEM
Organitza:

Amb el suport de:

TORNA AL PRINCIPI