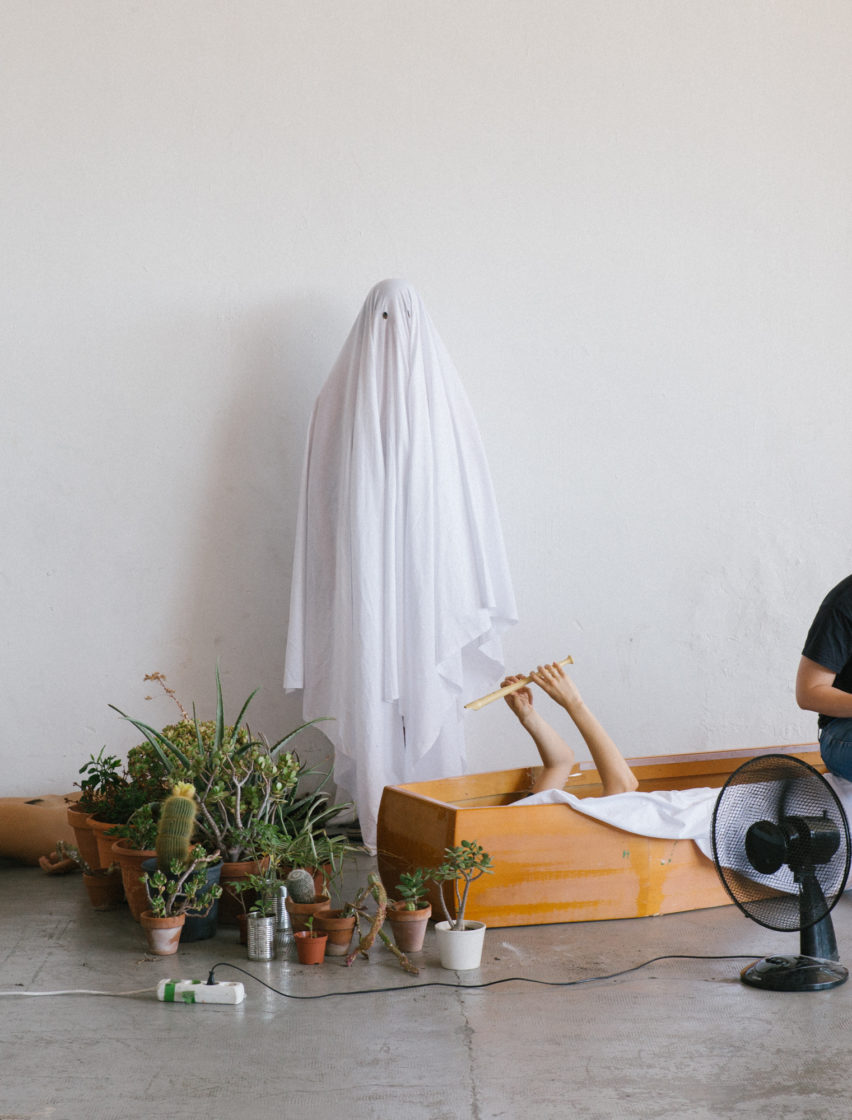 AQUELLAS QUE NO DEBEN MORIR (THOSE WHO SOULD NOT DIE)
Las Huecas
The TNT supported the creation of the project Aquellas que no deben morir, by the collective Las Huecas, through an artistic residency. The festival is not only committed to the project, but also to the poetic and political power that emerges from its (un)determined way of doing things.
Las Huecas—all women, all born between 1990 and 1995, and with a mixture of everything (text, body, puppets, performance, philosophy, aesthetics, light, sound)—insist that this collective creation is not just a 'mouthpiece'. Producing the work as a collective means they have had to do everything five times, and that they have learned to unlearn, and to add. Patience, empathy and time were needed to manage frictions and frustrations. To go through all of that on top of financial insecurity requires a certain fanaticism and giant ovaries.
By making the saying 'If life gives you lemons…' their own, Las Huecas put financial insecurity at the service of their love for theatre, and their love for what's 'performed'. 'Performed' is a key word, because what Las Huecas actually aim to celebrate is the revolutionary power that lies in in knowing how to make ghosts from a sheet – or palaces from a shoebox. They build up their art from imperfection and close reproduction (two inevitable features resulting from multi-perspective readings), and this turns their performances into mysterious places, sometimes under construction, sometimes in transit.
Las Huecas underline and denounce certain aspects of reality, distancing themselves by putting irony or ridicule into play. In addition to questioning and highlighting on their financial insecurity, Aquellas que no deben morir aims to denounce the business and private management of death. An aspect of capitalism that is very much lacking in critical reflection.
Inviting professionals and activists to be part of their conversations and filling that uncertain place with funeral symbols, voodoo dolls and ritual dances, Las Huecas have built a permanent state of transit that captures the fascinating, enigmatic and terrifying mystery that we associate with death.
Creation: Col·lectiu Las Huecas
Performers: Júlia Barbany, Esmeralda Colette, Núria Coromines, Andrea Pellejero
Technician: Sofía A. Martori
Sound Space: Adrià Girona
Lighting Design: Ana Rovira
Artifacts: Dani García
Mourning Process Consultant: Júlia S. Cid, part of Som Provisionals
Funeral Home Consultant: Núria Isern
Production: Las Huecas
Photography: Roc Pont
Co-produced by:
Festival TNT (Terrassa)
Antic Teatre (Barcelona)
La Infinita de l'Hospitalet (L'Hospitalet de Llobregat)
With the collaboration of: El Graner – Centre de creació
TAMBÉ ET RECOMANEM
Organitza:


Amb el suport de:


TO THE BEGINNING