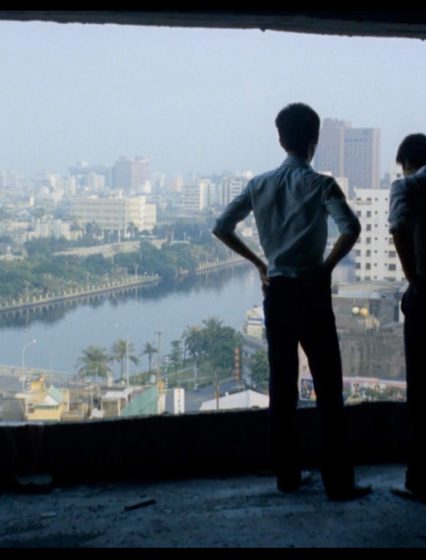 BRILLIANT CORNERS
Orquestina de pigmeos
Orquestina de Pigmeos are musician Nilo Gallego and audiovisual artist Chus Domínguez. In Brilliant Corners they work along with stage artist Silvia Zayas to invite us to be part of a film shooting crew. Only without cameras or projectors. Faking a shooting and using our walking as the cinematic tempo we will become the film ourselves. The city noises will be the soundtrack along with the excerpts played live by musician Pope, whose inspiration is Thelonius Monk, the genius of improvisation in jazz music who had a knack to make the present shine with particular intensity.
In a shooting, space is perceived in an unusual way. Behind the pursuit of good shots, sequences and stories there's a hidden, astonishing viewpoint on reality. Once the director shouts action!, a bundle of choreographed bodies in front of and behind the cameras work to spot exactly what is searched from every corner. And things begin to appear: unexpected opportunities, that light shedding from the perfect angle… Everywhere seems to be filled with life.
When we watch a site-specificic show, something similar happens. The black box of the theatre is not there and we see how household places change through the accents of a choreography or the existential vibe of someone dancing, nourished through textures, memories or whatever the setting adds.
Half way between a site-specific show and the shooting of a film imagined as it happens, Brilliant Corners pushes us to look together for the fiction in minor things, the details we usually overlook, the traces left by our walking on well known spaces of the city (or not so busy ones)
Created by Orquestina de Pigmeos: Nilo Gallego and Chus Domínguez, together with Silvia Zayas
With the collaboration of the musician Pope (trumpet and mobile electronics)
Co-produced by Festival TNT. Supported by the Salmon 2019 festival together with El Graner, La Caldera and La Poderosa.
Acknowledgments: Elena Carmona, Cristina Riera, El Pricto, Ancor Miranda, Cristina Alonso, Monica Muntaner, Cristina Blanco, Amaranta Velarde, Elena López Riera and Rubén Ramos.
TAMBÉ ET RECOMANEM
Organitza:

Amb el suport de:

TO THE BEGINNING