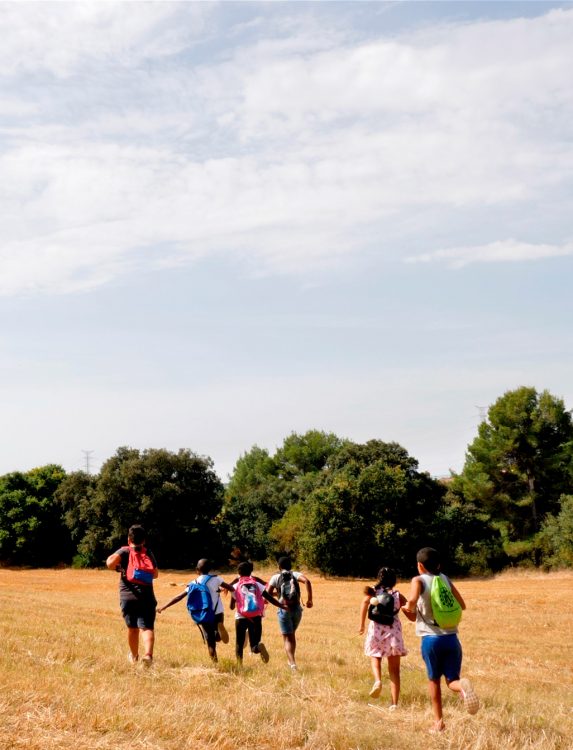 EL SOL VA PER DINS
Nyamnyam
One of the objectives of the TNT Festival's new executive board is to open up to the city of Terrassa. They want residents to be involved in arts and to give them something in return, something more than the usual locations and audiences, something beyond the city centre.
A project that strongly captures this idea is the carte blanche given to Ariadna Rodríguez and Iñaki Álvarez (NyamNyam) surrounding the creation of a communal audiovisual project featuring the children of the Montserrat, Torre-Sana and Vilardell summer camps.
The goal of this project was to produce a film that will be screened in the biggest room of Terrassa's Cinema Catalunya. From children's innate imagination, a story was built that completely drifts away from not only reality but also from fantasy. But wait. How is that even possible? Is it reality or is it fantasy?
Far from filming a linear documentary about a complex social reality, NyamNyam decided to spend a few days witnessing the activity of MTSV's summer camps. They just took in whatever was happening around them and they tried to understand the implications and dynamics. From there, the company proposed new, tailor-made games for children and adults and they made them work together in the construction of a fictional world that displayed their reality from a totally different viewpoint.
NyamNyam is continuously wondering about the "what", the "how" and the "where." As they did in Ayer hoy mañana. Los límites del fuego [Yesterday Today Tomorrow. The Limits of Fire] — where two forgotten communities of Analco (Guadalajara, Mexico) were filmed over days— Torre-Sana's film gusts out a scent of space and time. Spinning art with life, NyamNyam weaves process, result and impact into fine embroidery with positiveness and sustainability.
Amidst a dystopic era, this project (entirely filmed and screened in Terrassa's Cinema Catalunya), takes a specific context —a vulnerable suburban area in Terrassa— and turns it into fiction. On the day of the premiere, the gathering of residents coming from this neighborhood and their joint walk to Terrassa's downtown cinema is also part of NyamNyam's artistic proposal, adding value to the whole act.
A nyamnyam project (Iñaki Alvarez and Ariadna Rodríguez) in collaboration with the Esplai Tremola (Terrassa).
With the participation of: Makhmoudan Faye, Modou Ba, Annibal Gomez, Saad Rigaa, Aslam Mouna, Widjan el Koudri, Faty Ba, Soda Mbaye, Minerva Ruiz, Lola Jimenez, Xavi Gomez and Sara Gallardo.
Video production and editing: Iñaki Alvarez
Sound design: Nilo Gallego
FX: Igor Socheleau – Bicoté Studio
A co-production of Festival TNT and nyamnyam
TAMBÉ ET RECOMANEM
Organitza:

Amb el suport de:

TO THE BEGINNING