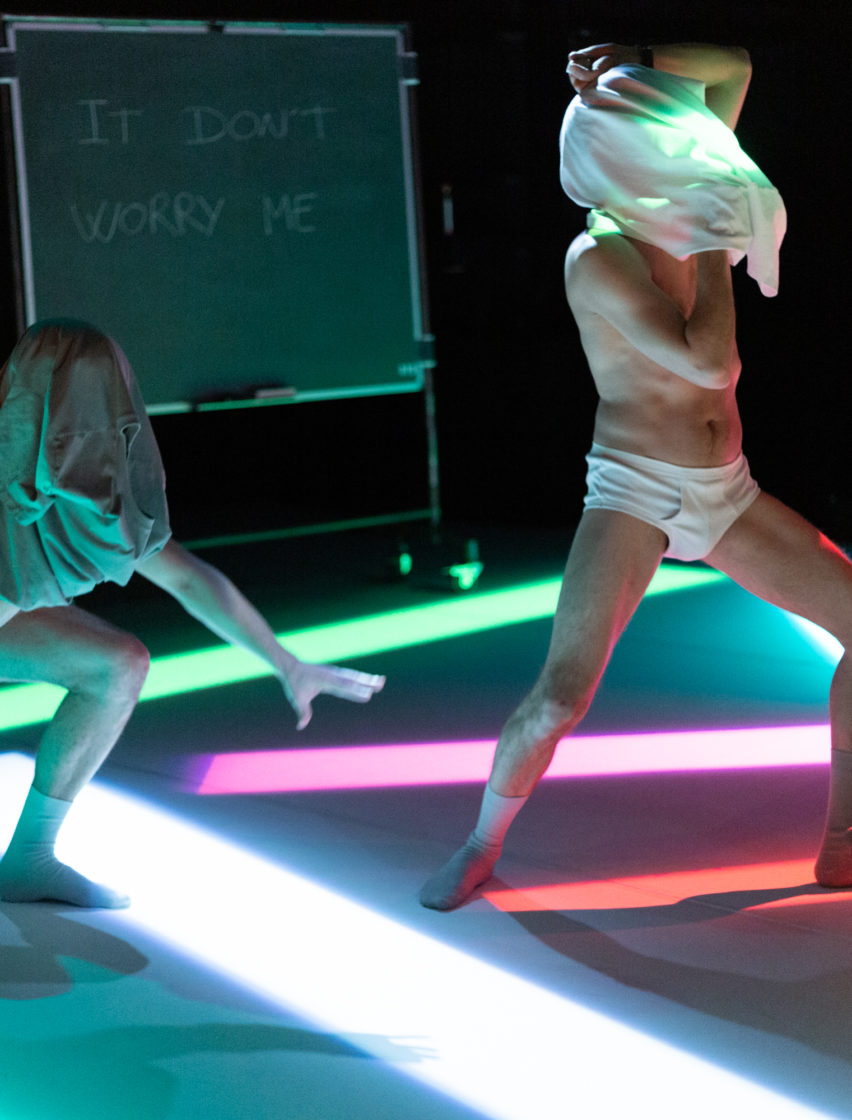 IT DON'T WORRY ME
Atresbandes, Bertrand Lesca & Nasi Voutsas
It don't worry me arose from a meeting between the Catalan collective Atresbandes and the duo formed by Bertrand Lesca & Nasi Voutsas. It begins with the performers chronicling what they are doing, live. "One man moves to the right, the other looks at him. Two performers, men, like two points in space…". The creators strip the theatrical performance right down.
And once the blank sheet has been created, some big, timeless questions arise on stage: what have we come here for? What can we learn from these men moving through space? Did they come to show us something? Do we want to be taught something? Do we think art should take sides?
As part of this debate, this show explores the tension between art and political correctness. More questions: are we free to offend? Do we dare to? Can we use the theatre to say what we really think? Starting with irony and using various poetic forms of expression, the two artistic collectives ask themselves what they have stopped doing or saying at one time or another, and break down the mechanisms of offence bit by bit.
They go further: they open the same exercise up to the room and take advantage of this relatively safe and delimited space and time—similar to a therapy session—to reflect with the audience on the reasons that lead us to remain silent, either out of fear, responsibility or excessive care.
Interesting meta questions, especially when placed against the European political and social backdrop through which the attack against Charlie Hebdo in France, or the consequences of the so-called Gag Law in Spain, show the very real and tangible implications of the friction between political correctness and freedom.
performers Mònica Almirall, Bertrand Lesca, Miquel Segovia, Albert Pérez Hidalgo and Nasi Voutsas 
lighting design Ana Rovira 
styling Adriana Parra 
executive production Hattie Gregory 
co-production Atresbandes, Bertrand Lesca i Nasi Voutsas
sound technician  Adolfo García
dramaturgical assistance Pablo Gisbert
supported by Arts Council England (United Kingdom), Festival de Otoño (Madrid), Centre Cívic Navas (Barcelona), Battersea Arts Centre (London), HOME (Manchester), Farnham Maltings (Farnham), Festival GIFT (Gateshead), Teatre Lliure (Barcelona), Graner Centre de Creació (Barcelona) and Institut del Teatre (Barcelona)
TAMBÉ ET RECOMANEM
Organitza:

Amb el suport de:

TO THE BEGINNING