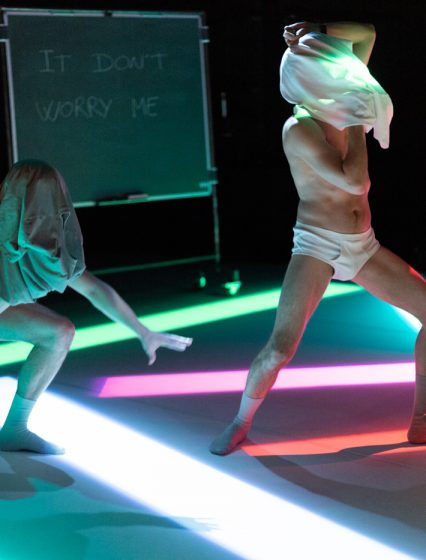 IT DON'T WORRY ME
Atresbandes, Bertrand Lesca & Nasi Voutas
It don't worry me arises from the collaboration between the Catalan collective Atresbandes and the duo made up of Bertrand Lesca & Nasi Voutas. It starts off with the performers commenting in perfect synch what they're actually doing: "A man walks to his right, the other one stares at him. Two performers, male, like two dots in a random place…" Spiral-shaped metatheatre.
They strip down the theatrical act. Why are we here? What can we learn from these bodies moving around, if there's anything they can teach? Do we want to be taught by them? If so, how?
The stage is a blank sheet and the big questions soar: must art always take sides and serve to some purpose? Or should it just have an esthetic aim, useless as it is? Once this debate is open, It don't worry me explores the tensions between art and political correctness. Are we free to snub? Do we dare? Can we use theatre to say what we really think?
Starting with irony and following with different poetical artifacts, the two artistic collectives dissect on stage the mechanics of offence, and they question everything they have not done or said. They include the audience in this exercise, using the theatre as a therapy office, which would normally be a safe time and place to ponder together and consider the reasons why we don't say everything we think. Is it fear? Responsibility? Or excessive caution?
All these are interesting metaquestions, specially if they are placed on a political and social European background in which the attack on Charlie Hebdo in France or the "gag bill" in Spain show the (very real and tangible) consequences of the clash between correction and freedom.
It don't worry me will also be available to be watched online through the festival's website.
Performers: Mònica Almirall, Bertrand Lesca, Miquel Segovia, Albert Pérez Hidalgo and Nasi Voutsas
Lighting: Ana Rovira
Wardrobe: Adriana Parra
Executive production: Hattie Gregory
Co-production: Atresbandes, Bertrand Lesca and Nasi Voutsas
Technique: Ruth Green
Dramatic advice: Pablo Gisbert
With the support of: Arts Council England (UK), Autumn Festival (Madrid), Navas Civic Center (Barcelona), Battersea Arts Center (London), HOME (Manchester), Farnham Maltings (Farnham), GIFT Festival (Gateshead) , Graner Center de Creació (Barcelona) and the Institut del Teatre (Barcelona).
TAMBÉ ET RECOMANEM
Organitza:

Amb el suport de:

TO THE BEGINNING