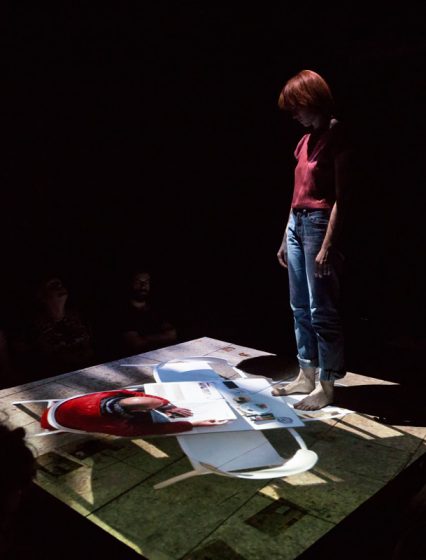 The City calls upon a cosy experience around a table, conjured by writer, playwright and audio-visual creator Verónica Navas. On the enlightened surface of the table, she orchestrates a setting for an audience of 9 people made of live and taped projections. She lays on dragged, folded, read paper sheets which add volume and layers of interpretation. She also comes into play telling possible stories, broadening perspectives, suggesting overviews.
"Start with the small and keep going with the small", reads a paper sheet held by Navas during the show. That's what The City is: to fix attention in little trails, to remark shadows and remnants of things in such a short distance that fragility and might can be tasted. There are nine chairs around the table: what's the experience like when the audience is so close to each other, when the show unfolds literally before our eyes?
If Orquestina de Pigmeos' Brilliant Corners takes us out to the street to feel the throbbing of the urban through a filming lens, Verónica Navas' The City makes the opposite journey. Seeking hinges to twin stage and urban experience, this installation "channels a story of the city in performatic privacy", in theatre researcher Ana Prieto's words.
That nine people audience, in silence, will spy together the traces Navas has carefully collected, like someone who looks out from a window or a balcony with a gaze that spreads out and about.
Authorship and execution: Verónica Navas Ramírez
Technical coordination: Sergio Roca Saiz
Production: Haizea Arrizabalaga
Technical support:Ventura L. Kalász
Acknowledgments: Salva Márquez, Cristina L. Morcuende, Nico Jongen, servei d'audiovisuals de l'Institut del Teatre.
A co-production of: Festival TNT – Terrassa Noves Tendències, Festival Grec 2019, Antic Teatre Espai de Creació, SÂLMON< FESTIVAL i Verónica Navas Ramírez.
Amb la col·laboració de: L'Estruch – Fàbrica de creació de les arts en viu (Sabadell), La Caldera Les Corts i l'Institut del Teatre de la Diputació de Barcelona.
TAMBÉ ET RECOMANEM
Organitza:

Amb el suport de:

TO THE BEGINNING