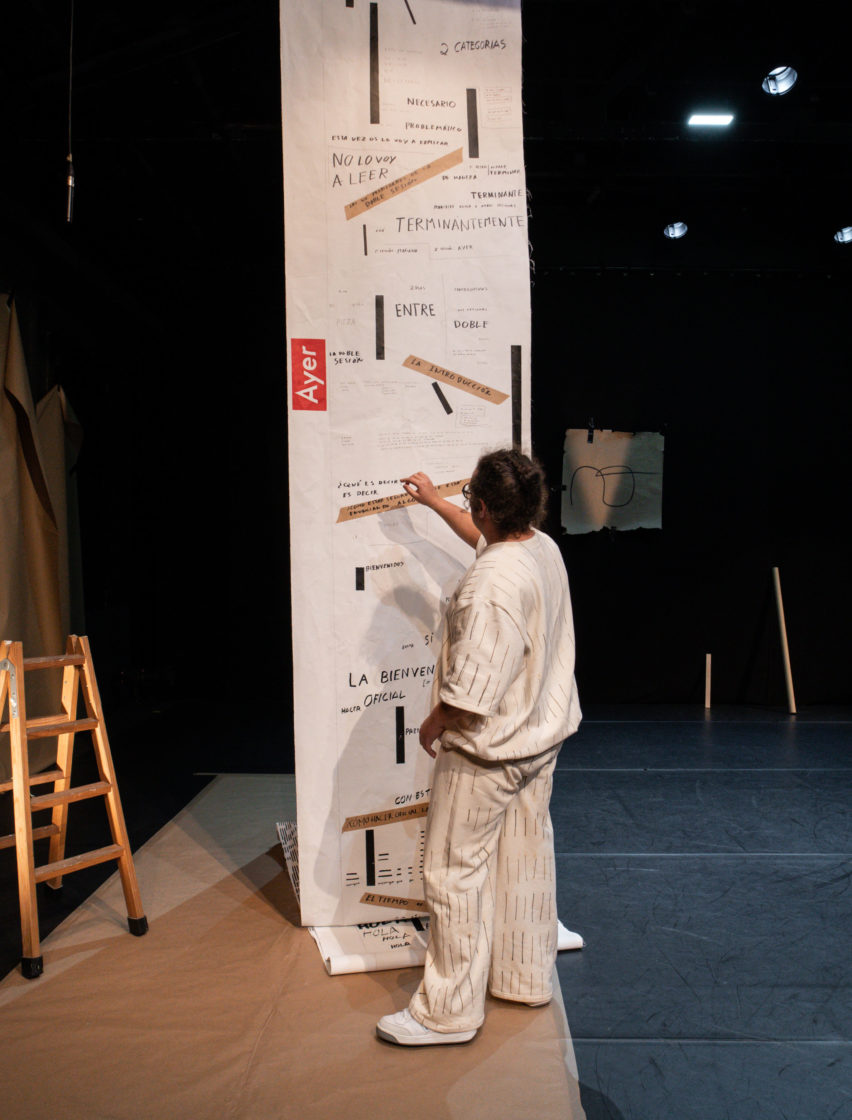 LA DOBLE SESIÓN
Norberto Llopis
Friday September 30, 8pm
Saturday October 1, 6pm
Venue: Main Theater Sala Cúpula
Running Time: 60 min
Price: €7
Language: Spanish abstract in English
In La Doble Sesión, Norberto Llopis (an avid reader of Jacques Derrida) starts from a text of the same name in which the French philosopher defends the impossibility of the event.
That means that in this show, which is literally made up of two quite different sessions, Norberto is not concerned with the material, but with the web of timeframes involved in the (futile) attempt to get it to appear. More specifically, by playing with the temporality of the written word, La Doble Sesión questions through performance the possibility of the written word being, of being complete, of being a whole.
Which is like saying that he's declaring the impossibility of something like theatre. 
Sweet, infinite, revolutionary paradox. And here we are, in the Sala Cúpula from Teatre Principal in Terrassa. After buying a ticket, we are called into one of two possible sessions. If it is the 30th of September, Ayer ('Yesterday') will be today, and Mañana ('Tomorrow') will have happened yesterday.  When he's preparing all this, Norberto speaks of a tomorrow that cannot happen, and of a yesterday that will never end. Whatever the day, we shall go in, we'll take a seat and somebody will talk from the stage. Can't we call this a 'theatrical event'?
A sharp-witted observer of contemporary performing arts, Norberto has noticed how the modern-day craving to get theatre to vibrate with a certain notion of 'truth' (an idea that's very much been in fashion since the 1960s) has been watered down to become a form of currency, an object to be capitalised on and consumed. For him, tightening the strings of theatrical thinking means abandoning any aspiration to the materiality of a presence and instead turning our eyes towards the margins, towards the operative background that seeks to make it possible. And also, particularly in the timeframe of the written word, where everything is transfer and movement. And that which is movement also leaves its traces away from the centre, and knows nothing of absolute truths and, by definition, is never still.  
La Doble Sesión is Norberto in word, an
TAMBÉ ET RECOMANEM
Hosted by:


Collaborators:


Media partners:


TO THE BEGINNING