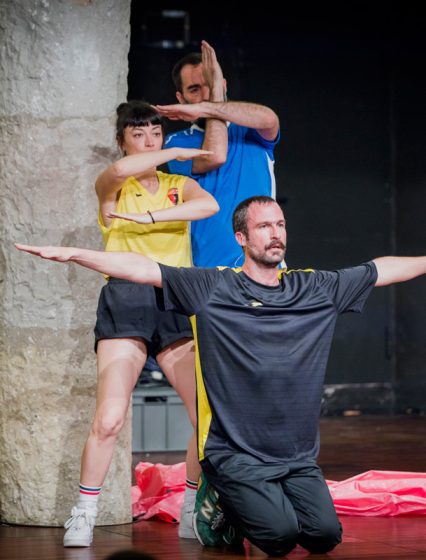 LO PEQUEÑO
Cris Blanco, Guillem Mont de Palol i Jorge Dutor
The creative couple Montdedutor has been working on the brink of conventionalisms for years. In their claiming of the stage as a lab of potential meanings they build whacky fictions where everything is brought up, accepted and nothing ever closes. There is not just one truth. And with a dash of hooliganism, they blow up the stage as a legitimacy tool for the powers that be. Montdedutor are people making big things small and vice versa.
After great success with their pieces #Losmicrófonos (2013) and Y por qué John Cage (2011) the couple decided to take a long time to meet new people and shake off the pressure of non-stop creating to keep riding high. "We want to have the power and the right of not knowing where we're headed, always knowing how to get there. We want to work in a non-productive way (both product and purpose wise) placing value on that intangible"
Smallness (2018) is watching particles floating, all coming from the stage get-together with another tag-crusher, Cris Blanco, also an expert on spotting hoaxes in the mechanics that fill things with meaning, on and off stage.
In Smallness the three performers pretend for a while. They pretend they're making up songs. They pretend they're playing to guess what the others are thinking. They act silly deliberately in an act of political creation suitable for all audiences, changing the order of things before it's even fixed, and they stay there, playing in a cognitive antechamber just to see what comes out of it. Smallness is an exercise of mind-widening highly recommended for adults whose children will feel like they never left home while watching.
Smallness will be also available online through the festival's website. If you want to know more, read this article by Quim Pujol, published in El Mercat de les Flors blog.
Creation and interpretation: Cris Blanco, Jorge Dutor and Guillem Mont de Palol.
Sound and technical coordination: Carlos Parra.
Executive Production: El Climamola.
Production of La Pedrera in collaboration with the Mercat de les Flors. Barcelona May 2018.
TAMBÉ ET RECOMANEM
Organitza:

Amb el suport de:

TO THE BEGINNING