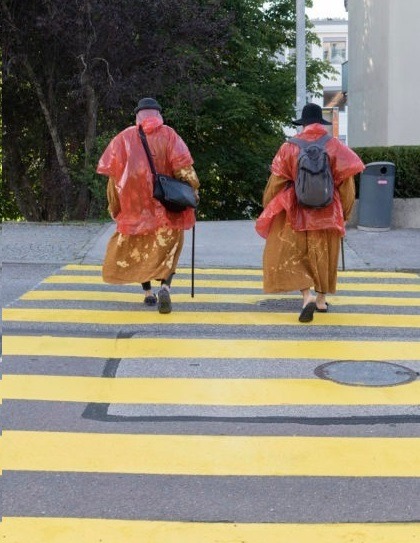 MAKERS ITINERANTES
L'Alakran
Tuesday, September 27, 7 p.m. Meeting point:  Merceria Rambla. Rambla d'Egara 174, Terrassa
Wednesday, September 28, 7p.m. Meeting point:  Seu d'Ègara, Carrer de la Rectoria, 16, Terrassa
Thursday, September 29, 7 p.m. Meeting point: Centre excursionista de Terrassa. Carrer de Sant Llorenç, 10, Terrassa.
Running time: 60 min
Language: Spanish
*Free subject to reservation on a first-come, first-served basis
Among many other things, this TNT is about honouring what was already there before it came, and placing it before —or alongside— the staged performances. One such example is nyamnyam, and another is this one by Compañía L'Alakran. 
At first sight, it's all very simple. Throughout the festival, Oscar Gómez Mata will be wandering around Terrassa in the company of his friend and co-performer Juan Loriente. They'll be walking alone, and as they go, they'll talk, or not, they'll observe their surroundings and their feet will get sore. They're going on an excursion —literally—. Every day they'll head somewhere new, where they'll have arranged to meet someone. In places that have been chosen and visited before, spaces and hosts will be waiting at the scheduled time —and for us too. 
The piece starts from the conversation with the person they meet, but new paths will be opened from there on. For example, extracts from the original Makers, which premiered in 2021, will be worked into the dialogue. Itinerantes continues or enriches the protocols of those first meetings, in which the two actors first started looking to move between the different layers of temporal reality that come together on stage. Here, theatre is taken outdoors to show us how there is so much more around us than what might first meet the eye. 
The stories we hear, the route, the walking and what that walking does for Juan and Oscar's mood, the love and trust that they feel for each other… It all comes in different forms of before, and is where all the possible resonances between the elements in play are forged in the now that each performance will be. As in Makers, the accidents caused by these resonances will intrude organically on the piece. They will put preconceived discourses in tension and will have us constantly asking where some begin and where others take us. 
L'Alakran are offering us this space and the baton to form our own idea of the places they visit. In these fields that are sown and germinated with stories and possibilities, we will be the ones who decide what to reap.
TAMBÉ ET RECOMANEM
Hosted by:


Collaborators:


Media partners:


TO THE BEGINNING