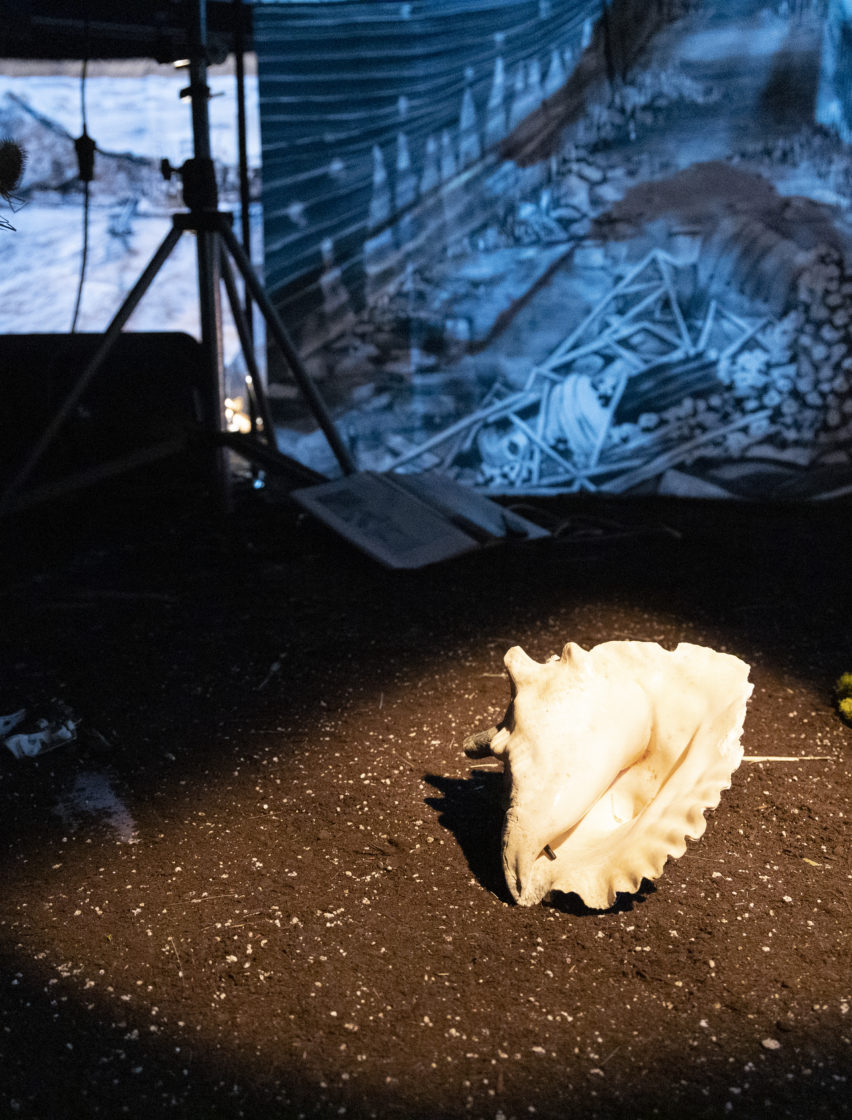 NO HAY TIERRA MÁS ALLÁ (THERE IS NO LAND FURTHER BEYOND)
Urati Laboratori
No hay tierra más allà is a theatrical installation made of dioramas designed for the 21st century. Somewhere between a video game and a theatre performance, Urati Laboratori has designed an immersive experience that aims to make the audience reflect on migration. Throughout the festival, anyone can venture to the Sala Muncunill in Terrassa to interact with it.
What is a diorama? A visual experience that precedes the video game, a way of experiencing something real in a living way. But it is also an artefact that emerged from a deeply colonial logic. The first dioramas took "exhibits" from "exotic" locations (pieces of land, stuffed animals) and subjected them to a montage designed for the enjoyment of a single spectator —superior, almighty, western.
The TNT has provided strong support to the young community of creators at Urati through an artistic residency, and by providing support from playwrights such as Txalo Toloza and Stefan Kaegi (Rimini Protokoll). In this exercise in recontextualisation, each diorama features its own dramaturgy, stage lighting, scent score, and a Playstation controller. But through the audible testimonies of migrants and experts from Terrassa and further afield, images become points of friction between the virtual world and the material world.
Plus Ultra! (¡No hay tierra más allá!). The old motto of the Kingdom of Spain, like the diorama, holds both a certain sense of promise and an after-taste of colonial mentality. A framework of thought that, far from disappearing, continues to show at the foundations of great modern tragedies such as the one taking place in the Mediterranean Sea when it comes to migration. On the other hand, Urati reminds us through their piece that humanity has long since set out to explore the virtual seas, but also that newer generations are no longer surfing in a spirit of conquest. Rather, they are moved by a feeling of fear, of being at the gates of the end of history.
These dioramas serve as symbolic bridges between two seas and two ways of drowning.
Scenography and Autorship: Urati laboratori
Concept and Staging: Albert Chamorro
Sound Space and Interactive Design: Sergio Camacho
Plastic Arts and Drawing: Marta Lofi
Dramaturgy Assistant: Úrsula Tenorio
Lighting, Video and Odour Design: Albert Chamorro
Artistic Consultants: Txalo Toloza and Stefan Kaegi
Production Assistant: Aixa González
Production: Urati laboratori
Research collaborators: Carmen de la Flor, Marc Selva, Youssef Salim, Ángeles Schjaer, Xavi Garriga, María Córcoles, Nadia Dahan, Roger Fe, Pilar Castañeda, Susana García, Sara Corado, Bakary Gassama, Mouloud Benazzouz, Mohamed El Khaddioui
Co-produced by Festival TNT – Terrassa Noves Tendències
Creation Support: Generalitat de Catalunya – Departament de Cultura, El Graner, Institut Ramon Llull, Estruch – Fàbrica de creació de Sabadell, Auditori Els Costals-Castellbisbal
TAMBÉ ET RECOMANEM
Organitza:


Amb el suport de:


TO THE BEGINNING