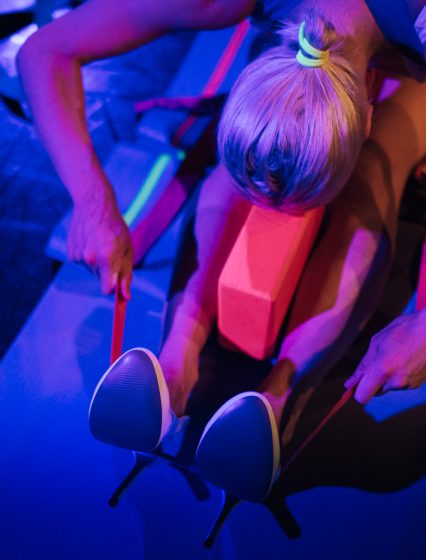 In Spiritual Boyfriends Núria Guiu —a Catalan author sadly earning more popularity internationally than locally— takes the westernised practice of postural yoga as a way to reflect not only on the relationships between the body, eroticism and power but also between the digital and spiritual worlds.
In her solo work, Guiu looks at the impact of yoga on the construction of our identity. What do we really think about when we say words like "beauty", "peace", or "health"? Guiu strips down the physical Eastern stereotypes and images traditionally associated with spirituality —now turned into mainstream appropriations—with humour and unrestricted morality. Using words to narrate her own personal experiencies, she opens up to us while addressing the existing tensions between body and image (or: between what you see and what you desire).
Body, power, eroticism, desire. These words govern our social and cultural macro-structures, as well as the micro-structures formed by our daily habits. Two dimensions increasingly entangled in the digital world, a world where the concepts of "freedom" and "control" often clash. Guiu asks: "What role does the Internet play in relation to the divine, the immaterial, love, power, neo-liberal policies and their social control and surveillance strategies? While we struggle to free our bodies from external institutionalised powers and norms, self-control is in vogue —and yoga is a great example.
A dancer and choreographer, a student of anthropology and an instructor of Iyengar Yoga, in Spiritual Boyfriends Núria Guiu digs her teeth into flaming contemporary debates by drawing water from many wells of knowledge.
Direction and performer: Núria Guiu
Artistic Assessorament: Esther Freixa, Sónia Gómez
Dramaturgic Accompaniment: Lluc Ubach
Design of scenography: Lola Belles
Assessorament vestuari: Lola Belles
Design by llum: Joana Serra
Technical assistance: Sergio Roca
Manager: Fani Benages ([email protected])
Residence at: Sala Hiroshima, La Caldera Les Corts, Graner de Barcelona, Cra'p, La Briqueterie CDCN.
Artist associated with: Graner de Barcelona
Thanks to: Claudia Mirambell, Alicia Kopf, Telemanrec, Carles Decors, Claudia Brufau, Søren Evinson
Co-production of the Grec Festival of Barcelona, La Briqueterie CDCN du Val-de-Marne
Premiere at Festival Grec Barcelona 2020
TAMBÉ ET RECOMANEM
Organitza:

Amb el suport de:

TO THE BEGINNING