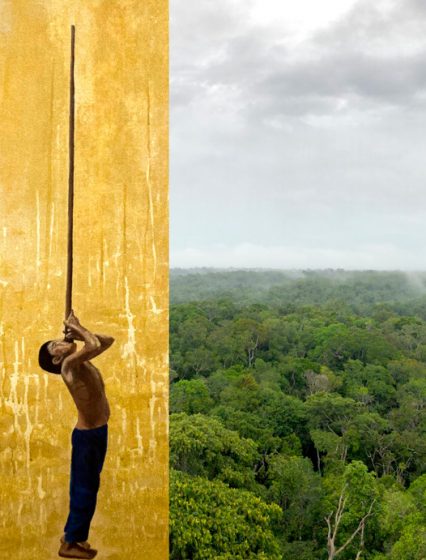 TEATRO AMAZONAS
Txalo Toloza i Laida Azkona
Video artist Txalo Toloza's and choreographer Laida Azkona's multidisciplinary creations stand out for two reasons. For one, their strict commitment to dismantle dominant historical accounts. For the other, the reworking of their research into stage projects and how they turn them into contemporary issues with the help of the living arts.
Teatro Amazonas zooms in on the history of two macro-facilities in the Brazilian city of Manaus: the huge 19th century opera theatre and the Arena da Amazônia stadium built for the 2014 World Cup. From there, Toloza and Azkona observe the relationship between the post-colonial bourgeoisie's desire for greatness and the over-exploitation of the Amazon jungle. What makes this tropical and sparsely populated area one of the most desirable places in the world for travellers, explorers and investors? The drive to tame nature and everything that lives there —yet another typical Western habit— is put under scrutiny.
Teatro Amazonas is the last work of the Pacífico series. It addresses the damage caused to the lands and native peoples of Latin America. It is preceded by Extraños Mares Arden [Strange seas burn] and Tierras del Sur [Southern Lands], both presented in previous editions of the TNT Festival. In all of them, Azkona and Toloza unveil a cascade of different events and re-stage them in a way that can be read the same way you observe a landscape. Video creations, texts describing images, ephemeral stage plays and their own bodies are thrown into battle as a way to offer new viewpoints on the complex results collected through their research.
The meaning evoked from these landscapes is instilled into the person who observes them, the spectator becoming fiercely involved in the exercise of re-reading. Within, there is a golden opportunity for Westerners to reflect on how to build fairer societies and avoid civil disobedience movements such as Black Lives Matter. Teatro Amazonas will be streamed online on the festival's website.
Dramaturgy and staging: Laida Azkona Goñi and Txalo Toloza-Fernández
Performers: Laida Azkona Goñi and Txalo Toloza-Fernández.
Voice over: Agnés Mateus and Tobias Temming
Director assistant: Raquel Cors.
Original soundtrack and sound design: Rodrigo Rammsy
Sound concept: Juan Cristóbal Saavedra.
Lighting design: Ana Rovira.
Audiovisual design: MiPrimerDrop.
Scenography: Xesca Salvà and MiPrimerDrop.
Documentary research: Leonardo Gamboa
Production design: Elclimamola.
Production: Helena Febrés.
Styling: Sara Espinosa.
Portuguese translation: Livia Diniz.
Translation to Tukano: Joao Paulo Lima Barreto.
Rapporteur: Pedro Granero.
Illustration: Jeisson Castillo.
THEATER AMAZONAS is a project produced by Azkona & Toloza, Festival Grec de Barcelona, ​​Théâtre de la Ville – Paris / Festival d'automne à Paris, Théâtre Garonne – scène européenne, Marche Teatro / Inteatro Festival and Antic Teatre de Barcelona. In collaboration with DNA Creation 2019, Azala Espazioa, El Graner – Mercat de les Flors, La Caldera, Teatre L'Artesà, Gayarre Theater, Nave, Creation Center and In-nova Cultural promoted by the Caja Navarra Banking Foundation and Obra Social "The Caixa". TEATRO AMAZONAS is a project associated with LABEA, Laboratory of art and ecology.
TAMBÉ ET RECOMANEM
Organitza:

Amb el suport de:

TO THE BEGINNING