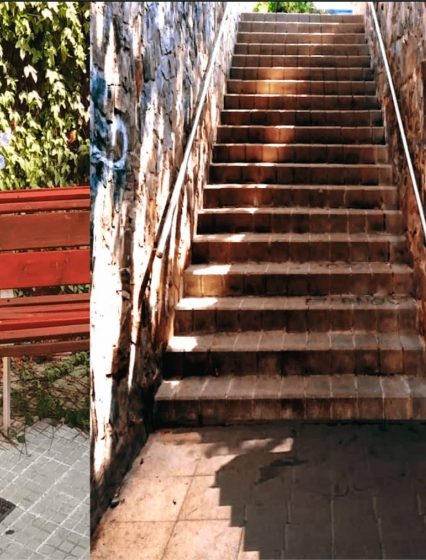 Assuming there is no need to get anywhere and that nobody will get anywhere empty-handed, Quim Bigas arranges several meetings with a group of local LGBTQI+ youngsters. During the three weeks the process lasts, this group will weave together thought, discourse, practice and body through physical tasks, conversations, experiences and moments. The outcome will be no more (and no less!) than the sharing of all this with the audience while walking (never in a straight line) with them along different parts of the city.
The verb to hang out has interesting subtleties to offer to the concept of gathering, of meeting up. Everybody has hung out with someone in a park or a square, just being there with them, together, without a particular purpose. Harvesting the experience of past projects such as Festucs or Carne Fiesta, choreographer Quim Bigas will follow the thread of each session to provide a similar creative space, a place before the judgement, before the description, even before the definition of identity.
Vincdesdevenir has many start-off intuitions, being one of them to try to turn off, precisely, the over-rationalisation of the definition of what we are. Identity is a tricky concept, a picture which might come up as a rejection of some other image. It's a common thing: a person can only be defined individually when detached from the mirage of collective normality. But what we are, we are according to what we're not? Are we sketches? What if we could see whatever there already is in us before comparing it with anything? What if we could see what we really are?
Shifting from I to WE and searching asymmetry in the relationship between body and its reflection in words, Vincdesdevenir is a walk through a maze with no centre. The LGTBIQ+ group will get lost there first, and during the Festival they will take us with them, marking some city spots as milestones in a voluntarily complex trip. And all because it's in the diversions of a journey, like in summer afternoon hangouts in a square, when meaning shows up almost unintentionally.
An artistic proposal for the TNT Festival by Quim Bigas, with the technical and dramatic support of Pau Matas, the collaboration of Ariadna Martínez, Dakota, Raquel Campos and Domènech Martin, the assistantship of Joana Ellen Öhlschläger and the accompaniment of Anna Bohigas and Inés Lambisto.
In colaboration with the LGTBI + Collective of Terrassa City Council
TAMBÉ ET RECOMANEM
Organitza:

Amb el suport de:

TO THE BEGINNING