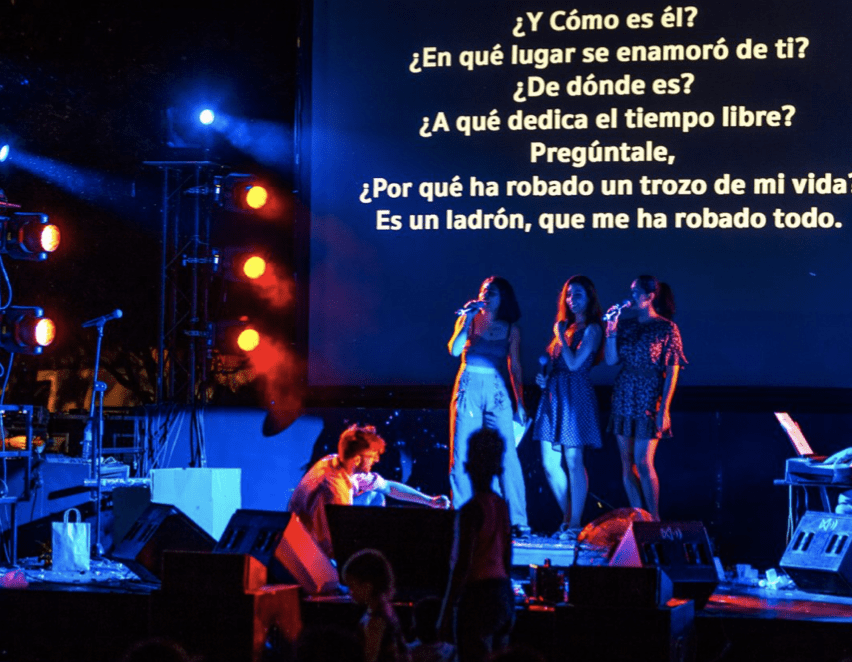 VIVIR EN VIDEOCLIP: TÚ, YO, 'NOSOTRIS' Y UN KARAOKE (Living in a music video: you, me, us and karaoke)
Anto Rodríguez
Let's face it: deep down, who doesn't like karaoke?
An outdoor karaoke, as it should be: with videos full of fluorescent colours and a classic list of songs that everyone knows the words to. This is the basic tool that Anto Rodríguez uses to reflect on the power of popular culture. Like other artists showing their work at TNT Festival —such as Amalia Fernández or Quim Bigas—, Anto celebrates the community aspect of the stage; the combination of ritual and politics in equal measure that happens when we come together to 'do stuff' while paying attention.
But in Vivir en Videoclip Anto asserts the power of the most mainstream section of this repertoire. Playing the role of master of ceremonies or entertainer, he begins by asking the party some questions about these forms of cultural representation. How do they affect our bodies? How do they unite us? Can we see them as spaces that nourish our capacity for critical reflection, or even encourage citizen mobilisation? Television talk shows and internet memes are the protagonists of this improvised music video, alongside us and the music.
Once you start to think about it, you can see that everything related to popular culture is looked down on by the institutionalised cultural sphere. It is fascinating that we turn our backs on phenomena, characters and products that draw so many people in. How can we spend our time talking about how the contemporary body is represented while excluding all those people from the debate?
In Vivir en Videoclip, Anto responds to this with new questions, and suggests an experiment: what if the invitation to participate in the music video was really open to everyone? What if the audience could take the lyrics and make them their own? And do the same with the stage, and everything that goes on there? A karaoke to kick-start a pop revolution, while we all have a blast!
Concept and direction: Anto Rodríguez
In collaboration with: Óscar Bueno
On stage: Anto Rodríguez i Óscar Bueno
Stage manager: Cuqui Jerez
Produced by Veranos de la Villa, 2018
Acknowledgments: Maral Kekejian, María Ordás, Liliana López, Patricia Vizcaino, Maxi Gilbert
TAMBÉ ET RECOMANEM
Organitza:


Amb el suport de:


TO THE BEGINNING