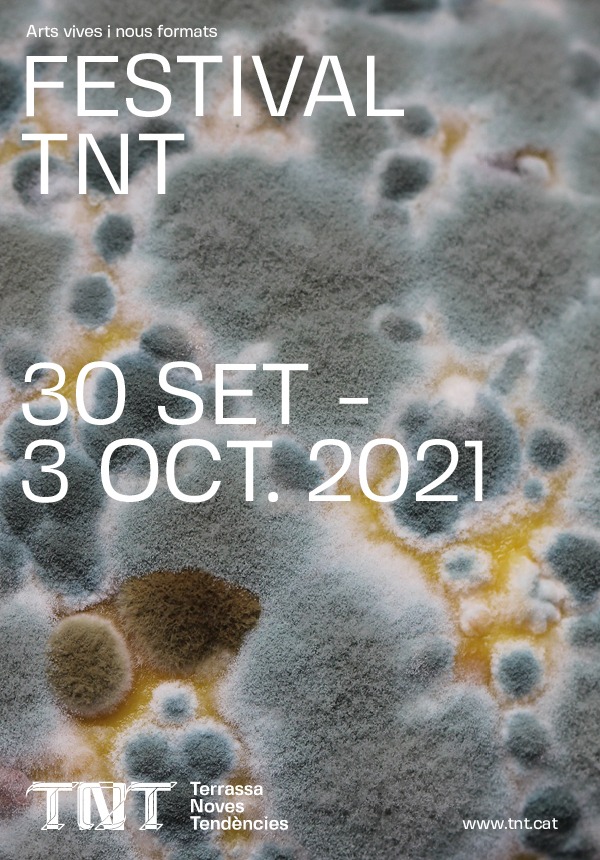 THE FESTIVAL OF ARTS AND NEW FORMATS
WHILE BEAUTIFUL PLANTS GROW IN THE HOLES
These are complex times. After some paralyzing months, we are finally to start a new phase, our carefully built project primed for a new start. Over the festival's twelve editions, we have managed to create a solid, powerful base from which we now stand. We have struggled not to be held back by uncertainty but —like everyone else— we still are.
This year's festival is the result of a great collective effort based on imagination, flexibility and commitment. These elements were necessary in order to push through what it seemed to be an immovable rock blocking our path. It's because of this experience that we chose to use the Latin prefix 'trans'. It describes our new state of mind, a mind across, beyond, crossing, on the other side.
Given the current health situation, this year's programme had to be downsized to a total of fifteen performances. You can walk through them in three possible ways, like three open paths you can scout as a jungle explorer. The first path is through participatory works: plays where the stage hierarchy is altered, challenging the roles of actors and spectators. Titles such as La ciudad by Verónica Navas, Brilliant Corners by Orquestina de Pigmeos or Archivo de Serrucho. All of them give way to unique artistic experiences that play with the "individual" and "group" self of everyday situations. They do so by transcending the stage limits and embracing disciplines such as cinema, sound art, plastic arts or live performances.
Pasolini believed that "modernity calls for spectators to rebel". We think it also calls for new processes and a fresher approach to culture by democratizing urban cultural spaces. The idea is to move culture away from city centers, let it dwell on riverbanks, open doors and windows to let a new whizz of air blow in. Our second path navigates through projects such as Vincdesdevenir by Quim Bigas, an awe-inspiring initiative for which the author met with LGBTQI+ teenagers from Terrassa to chat, share and explore whatever paths hold them together as they move through the labyrinth of life. Similarly, in an audiovisual project called El sol va por dentro (The Sun inside) by the Nyamnyam collective, you can see how children from Terrassa's district nr. 2 spent some exploratory days enjoying the MTSV Summer Camp. Lastly, the collective piece "Quien canta sus males espanta" (Sing your sorrows away), by Poderío Vital —an improvised choir formed by untrained local participants— will close the festival with a festive group vermouth on Sunday at midday in Plaza del Ayuntamiento.
Finally, TNT's third path sews together the shows whose bold creators suffered to produce. Strong, vibrant political and social plays depicting today's confused and complex reality. This route includes works such as Explore el jardín de los Cárpatos (Explore the Carpathian Gardens) by José y sus hermanas —a piece condemning tourism as Spain's main economic drive; Light years away by Edurne Rubio —an autobiographical review of Spain's historical memory; and Juana Dolores' debut, Massa diva per a un moviment assembleari (Too much of a diva for an assembly movement), a young Barcelona poetess who pays homage to the city's urban slums while calling for the delocalization of culture and the exploration of new territories for art.
"Everything near becomes far," Goethe wrote once. We, too, have witnessed many things over the last few months. That which we once took for granted now fades away. Everything that was once in a given has now ceased to be so. At times, we surrendered to fear, to the idea of "the end". But this period should now call for reaction. Let's start by changing a system which has long been in crisis. As Kate Tempest sings, "It said there are no new beginnings until everybody sees that the old ways need to end."
Marion Betriu
Directora artística TNT
FESTIVAL TNT 2020
OTHER CONTENTS
Organitza:

Amb el suport de:

TO THE BEGINNING