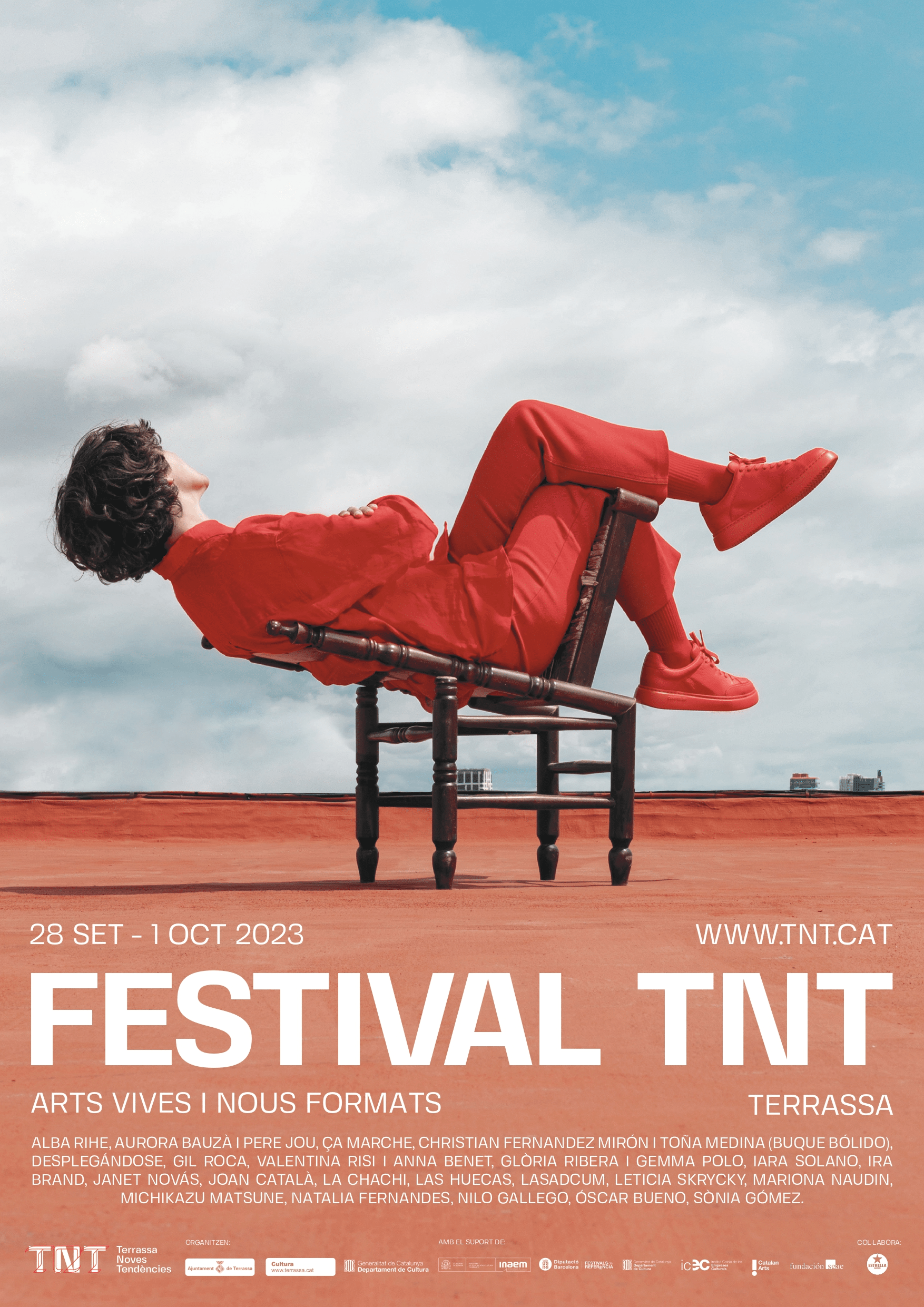 THE FESTIVAL OF LIVE ARTS AND NEW FORMATS
From September 28th to October 1st 2023
The idea behind this year's line-up is apparently simple, namely to switch the parts of a chair to change our perception, recombining them as if recomposing the body. And the senses too. The posture isn't quite so comfortable, some effort may be required, there could be lower back pain and the abdominals might tremble, but this year we need to find new ways of being and capturing reality to take respite from such a troubling present, to get rid of impotence and despair, and to awaken the spirit for transformation. They say that the swifts fly to heights of almost three thousand metres to navigate more accurately and work out where they need to go. We can't take to the air, but we can try a look a little higher. Following crisis after crisis, we have clearly reached breaking point as we stand before the abyss. How are we supposed deal with it?
In this year's edition there are many invisible threads intertwining the items on the programme, a large, ubiquitous web that interrelates them and fosters dialogue. Anyone is free to take the plunge, follow their own instincts and interpret things in any of a multitude of different ways. We dare to propose one possible approach based on what we view as the primordial need to draw on what is most essential, from whence we get the desire to relearn, to invoke new ways of understanding and relating with each other, and also to engage with a world that's ending, but that will never end. Brave proposals, with the body featuring prominently, that try to imagine reality and compare it with what could be and which ask many questions and hint at the answers. Now that we have done away with apocalyptic imaginings, is it possible to start anew? What happens when we put our own gaze at risk? What should we do with all this that we have inherited? How aware are we that it is always a shared responsibility?
Such unparalleled artists as Óscar Bueno, Leticia Skrycky, Aurora Bauzà and Pere Jou, Ça Marche, Iara Solano and Nilo Gallego are here to present pieces in which we are encouraged to pick through the layers, to get down to the bare essentials, to feel in harmony with primary elements like fire and water, and to prioritise senses that we've always tended to view as secondary, such as touch and hearing, or to assign new meanings to materials that already exist. Such transgressions may seem trivial and speculative, but they lead us towards new ways of being and contemplating the world, and of considering other principles. Construction and destruction of identity is another theme that's common to several items on the programme. Janet Novás comes from speculative terrain as she examines the need to dissolve her identity into several bodies so that it can be reborn as something more collective. La Chachi and Joan Català try to understand themselves through the traditions to which they belong, mixing community experiences with the more intimate parts of their stories.
Another reflection to be highlighted among the artists featuring this year involves reappraisal of the affectivity of human relationships. The latest projects by Las Huecas and Sònia Gómez are based on thoughts about friendship. Is friendship even possible in such a commercialised world today? Is friendship a safe space in which to expose our vulnerability and come out stronger? In a similar vein, Ira Brand and Michikazu Matsune propose original, challenging exercises. The former analyses the power relations and submission between two people in what might be the most daring production on the whole programme. And in the latter, the Vienna-based Japanese artist looks at how we are shaped by the people in our lives. A freakishly ghostly endeavour that is bound to fill the theatre with all kinds of presences.
From a more irreverent and dissident corner, we have a series of pieces by female producers that use words, music and comedy to offer a more feminist slant, and to spark rebellion against the eyes that construct us and that try to dictate to us what we should do and how. We're talking about the performances by Mariona Naudin, Alba Rihe, the duo of Glòria Ribera and Gemma Polo, and Natalia Fernandes. The last two are designed for the public space and pursue both formal experimentation and celebration.
As in the last two editions, and in association with the Terrassa based creative studio El Corralito CAA, we are inviting two rising talents to showcase their creative processes. This year's chosen guest artists are laSADCUM and the trio Benet/Risi/Roca. Both productions share the core idea of changing the pace of things. The first looks at how new generations relate with sex in the hyper-accelerated internet era, which the second is all about slowing down in the more material framework of ceramics, architecture and sound.
Finally, TNT KIDS, as always, is our programme that puts children at the centre, and in which their participation plays a fundamental role. Nilo Gallego is inviting us to join him in an audio workshop where the technology of buttons and wheels is replaced with that of listening and imagining. Instead of asking what a body can do, he asks what the eardrum can do. The Desplegándose group are here with a piece for toddlers made out of different objects and materials that involves free play, but where families also get to take an active part. Last but not least, Buque Bólido will enrapture us with a fun, imaginative piece aimed at anyone from 3 to 103 that starts the day before with a set design workshop using recycled materials where we'll all work together to build the items for the show.
The world is a noisy, tiring place that is advancing at an increasingly more frantic pace, and with harrowing changes in store. We like to think of the festival as a four-day respite. Fact is, we have no idea what might happen if we were to be born again, or to what extent, as Emerson said, we need eyes to see. But what does it matter? We can offer you these chairs as a possibility.
FESTIVAL TNT 2023
ALTRES CONTINGUTS
Organitza:

Amb el suport de:

TORNA AL PRINCIPI