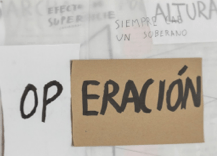 LA OPERACIÓN
Norberto Llopis
About the show:
Norberto Llopis proposes his piece in the form of a mathematical operation to deconstruct, to open up possibilities and change the way we understand time. An operation that wants to work directly on action, on doing and, at the same time, produce a change in our way of looking.
The Operation aims to investigate the formula that gives the keys to change and transformation. Because it is something that cannot be seen, but that keeps changing the ways of seeing, of understanding, of meaning and of relating, without ever being able to definitively close a single and definitive way of relating.
About the author:
Norberto Llopis is an artist who works between choreography, performance and thought. He is graduated from the Higher School of Dance and Choreography at the Institut del Teatre de Barcelona. He has a Master in Performing Arts from the AHK Amsterdamse hogeschool voor de kunsten, under the DasArts program. In 2016 he graduated in Philosophy from UNED and in 2018 in the Master of Advanced Studies in Philosophy from the Complutense University of Madrid.
His artistic practice ranges from working with and on the body, to the use of objects and materials for the construction and reflection of the space we inhabit. In his approach to philosophy, he tries to develop a non-theorizing practice of thinking about space and signs.
He has developed his artistic work in the form of: scenic pieces, performances, installations, conferences and texts, between Spain, Brussels and the Netherlands. He has also been an interpreter of various creative processes with artists such as Carolien Hermans, Paz Rojo, Diego Gil, Jefta Van Dinther, Res Gambier, Rafael Tormo i Cuenca and Vicente Arlandis, among others.
Organitza:

Amb el suport de:

TORNA AL PRINCIPI