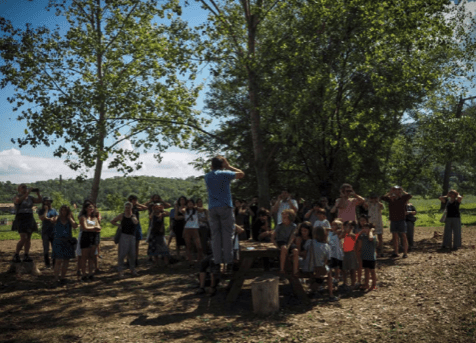 ORELLES VOLADORES
Nilo Gallego
About the show:
Orelles Voladores is a percussion concert that asks how we could get our ears to detach from our bodies and fly like butterflies to select and listen to every detail of the landscape.
A project that aims to tune the eardrum and experiment with its potential. You don't know what a body can do, let alone the eardrum. How far could we go if we decide to consider our eardrum as our most important bodily connection with the world around us, with what is part of our history and with the living beings we live with?
Nilo Gallego proposes the idea of getting to know each other through listening, without words or images, just by building a new code that allows us to meet and share. Because life and lives make noise, vibrate, slurp and rub.
About the author:
Nilo Gallego is a musician and performs performances in which experimentation with sound is the starting point. In his works, which always have a playful component, he seeks the participation of the public and the interaction with the environment and the everyday. Some of his performances have been: Pigmeus do Mondego (sound action on the Mondego river), Felipe vuelve a casa con las ovejas sonando (concierto de ewejas con cercerros o Canción de éxito mundial (participatory performance).
Organitza:

Amb el suport de:

TORNA AL PRINCIPI